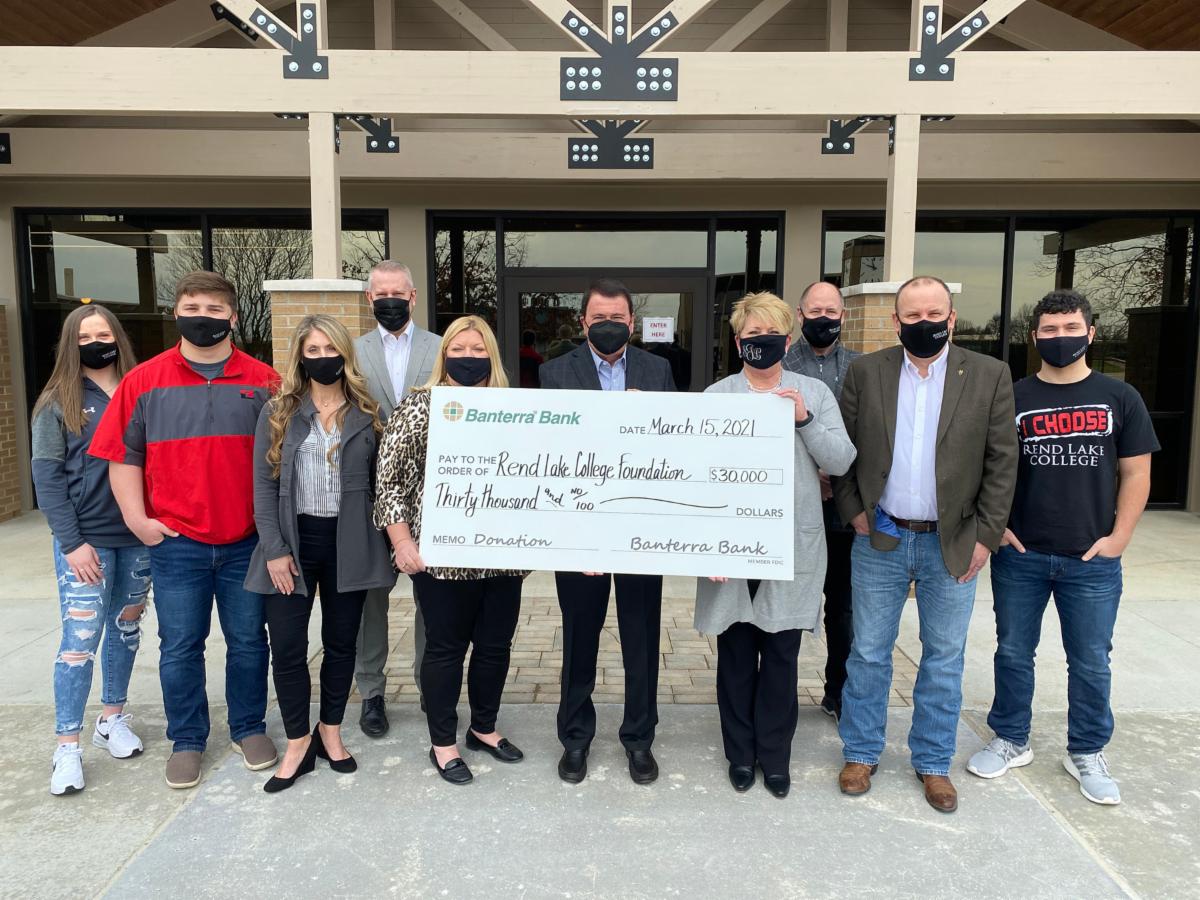 INA, IL (March 15, 2021) – Banterra Bank has announced a $30,000 donation to the Rend Lake College Foundation in Ina, Illinois to support the expansion of the college's Learning Resource Center. The upgrades include a new façade, six learning collaborative study rooms, a central outdoor study and social area for students, and enhanced career tech and student support services that include a wellness room, lab and classroom areas, and a children's library.
In 2019, the Rend Lake College Foundation embarked on a $765,000 capital campaign called The Hub. Construction began in late August 2020. The renovations are nearly completed and available for limited use by students and faculty.
"We were pleased to be able to contribute to Rend Lake College, an institution that is so important to the growth and education of our region," said Jeff May, President & CEO, Banterra. "We've developed a nice partnership with this organization and it is an honor to support them in this way."
"It is our priority to ensure Rend Lake College has the academic, technological and physical resources essential to student success. We can't do this alone, which is why we are so grateful for partnerships with area businesses like Banterra, as well as individual donor support to help us further our mission," said Kay Zibby-Damron, CEO, Rend Lake College Foundation.
"The support and partnership that Banterra as a whole – from the bank's top leadership to the day-to-day branch staff – have shown us is impressive. It has been vital for our college and our region, and we truly appreciate this donation" said Terry Wilkerson, President, Rend Lake College.
ABOUT REND LAKE COLLEGE (RLC)
Rend Lake College is a nationally ranked college in southern Illinois with campuses located at Ina, Mt. Vernon and Pinckneyville. Founded in 1967 and nationally accredited by the Higher Learning Commission since 1969, Rend Lake College provides its district and the region with real world educational opportunities through more than 100 degree and certificate options. RLC's mission is to provide open access to lifelong education across cultural and economic boundaries to the diverse student population we serve. We believe every employee has a part in serving our students and community, as we strive to be student-focused, authentic, and resourceful. Embedded in every program of study are RLC's four fundamental learning objectives: critical thinking, problem solving, oral communication, and written communication.
ABOUT BANTERRA BANK
Banterra supports a variety of community needs through donations, promotions, volunteerism and year-long charity fundraisers in their branches. Banterra began as a single bank in Ridgway, Illinois in July of 1975. Today, Banterra has $2.3 billion in assets, 40 locations in Illinois, Indiana, Kentucky, Missouri, and Arizona and is ranked in the Top Ten Percent of U.S. Charter Banks and Top Five Percent for Illinois Charter Banks, according to asset size. In addition to offering personal and business banking products, Banterra provides services nationwide through specialty lending divisions including Aircraft Finance, Machine Tool Finance, Corporate, Transportation and RV and Marine Lending. Banterra also offers Banterra Insurance and Banterra Investment services. For information, call 866-BANTERRA (226-8377), or go to www.banterra.com.