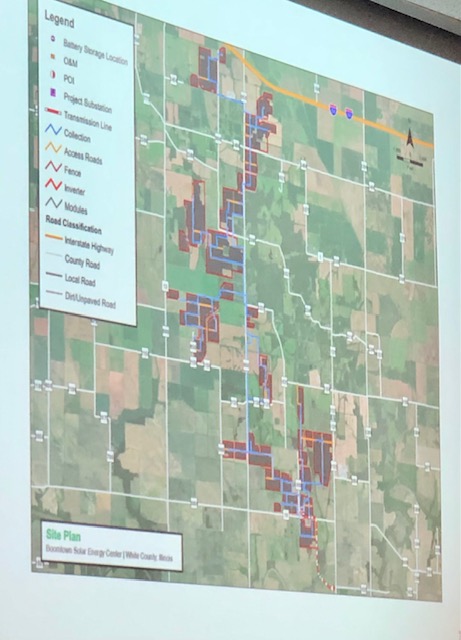 Bipartisan support is hard to come by these days.  Despite agreement between at least one lifelong Democrat and a Republican that recently served as the Risk Management Agency Director under the Trump administration, there was continued debate over solar coming to White County.  Nancy Mitchell, former County Board member and former White County Democrat Chairperson along with Martin Barbre, owner of Chestin Farms and past president of the National Corn Growers Association are landowners in the region Invenergy LLC is leasing land to construct their solar farm.  Both stand to lose farm ground in the deal, but also will make money by leasing.  Both agreed it's good for the county.

On the other side, reliable dissonant Waylan Chapman who has consistently spoken out against, or at least severely concerned about both solar projects in the county delivered hundreds if not more than a thousand pages of research before the county board and continued to recommend the board take more time to research the matter before moving forward.  He wasn't alone.  Landowner Tiffany James and her husband Buck were in attendance and she was very upset and leveled accusations she was personally misled.
Part of Chapman's argument…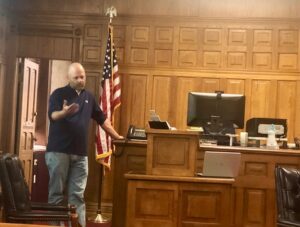 Some of Barbre's input includes…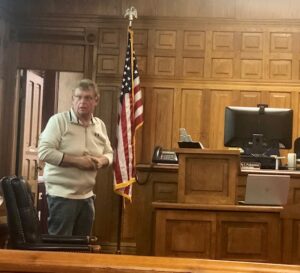 Mitchell adds…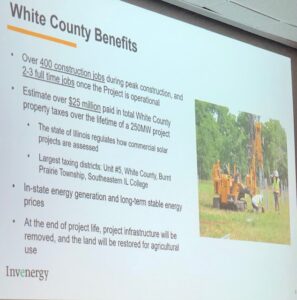 Most in attendance were supportive and one of the biggest reasons claimed were the tax benefits to the county.  Sarah Carroll, Senior Analyst/Renewable Developer for Invenergy in her presentation laid out a host of benefits to the county.  Among them, 400 construction jobs during peak construction and 2-3 full time jobs once construction is complete.  Additionally, she estimates more than $25 million paid in White County property taxes over the lifetime of the project.  Amy Dixon, Director of Curriculum for Carmi-White County Unit 5 says she supports the project.
At the end of the day, the landowners directly affected had a choice to make as to whether they wanted to participate or not.  Sharon Dartt, one of those landowners, says it's not a decision they made lightly and to this point, she says Invenergy has proven trustworthy.
Chapman steadfastly believes it's a decision everyone will regret.
The public hearing began at 6:30pm and thanks to the lively conversation ran well into the 7 o'clock hour.  In a unanimous vote, the White County Board approved the permit for Invenergy LLC.
Also during the board meeting, the board approved the resolution from the tax sale which resulted in 22 parcels worth $29,861.
The County Board will next gather on May 11th at 7pm.