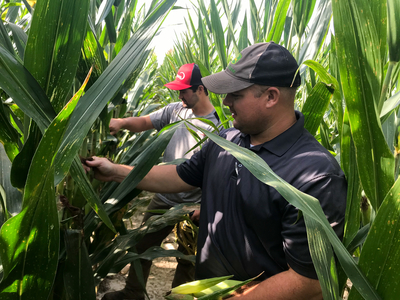 Annual Crop Tour Scheduled
The 24th annual White County Crop Tour will be held on Tuesday, August 31, 2021.
Individuals are invited for breakfast refreshments the morning of the program starting at 7:00 a.m. in the basement meeting room of the Farm Bureau Building in Carmi. Teams will depart beginning at 7:30 a.m.
Participants will be assigned to one of the 10 townships in the county. Data from at least 8 different locations in each township will be collected. Groups will then return to the Farm Bureau Building by 11:00 a.m. for lunch and for the accumulation of the data. The complete report will be available to attendees during lunch and will be released to the public the following day.
If any farmer does not wish to have crop tour participants enter their fields to collect data, they are encouraged to contact the Farm Bureau office prior to the day of the event. The crop tour is sponsored by the White County Farm Bureau, Wabash Valley Service Company, and Consolidated Grain & Barge in Enfield. Data from the crop tour will be posted to White County Farm Bureau website at www.whitecfb.com following the completion of the tour. To sign up to participate in the Crop Tour, contact the White County Farm Bureau at (618) 382-8512 or email [email protected]