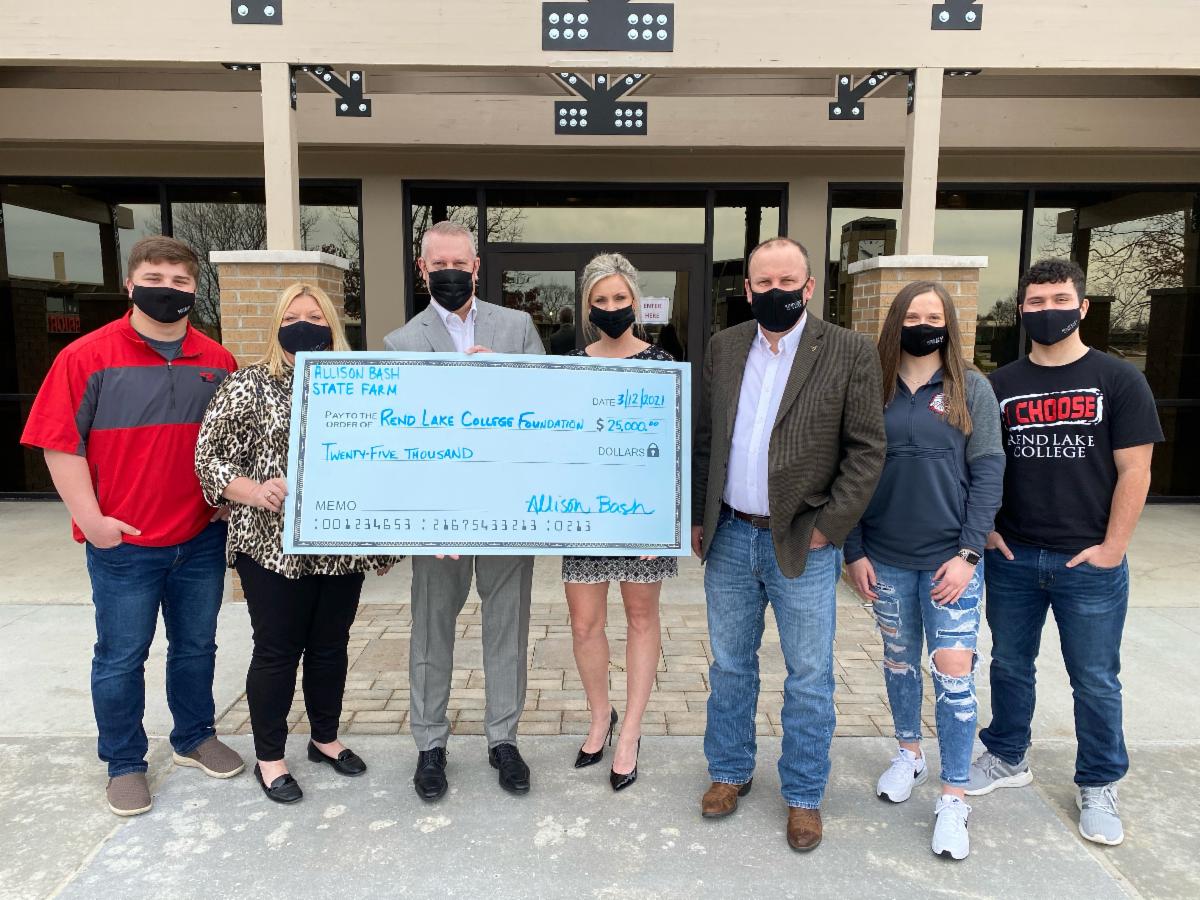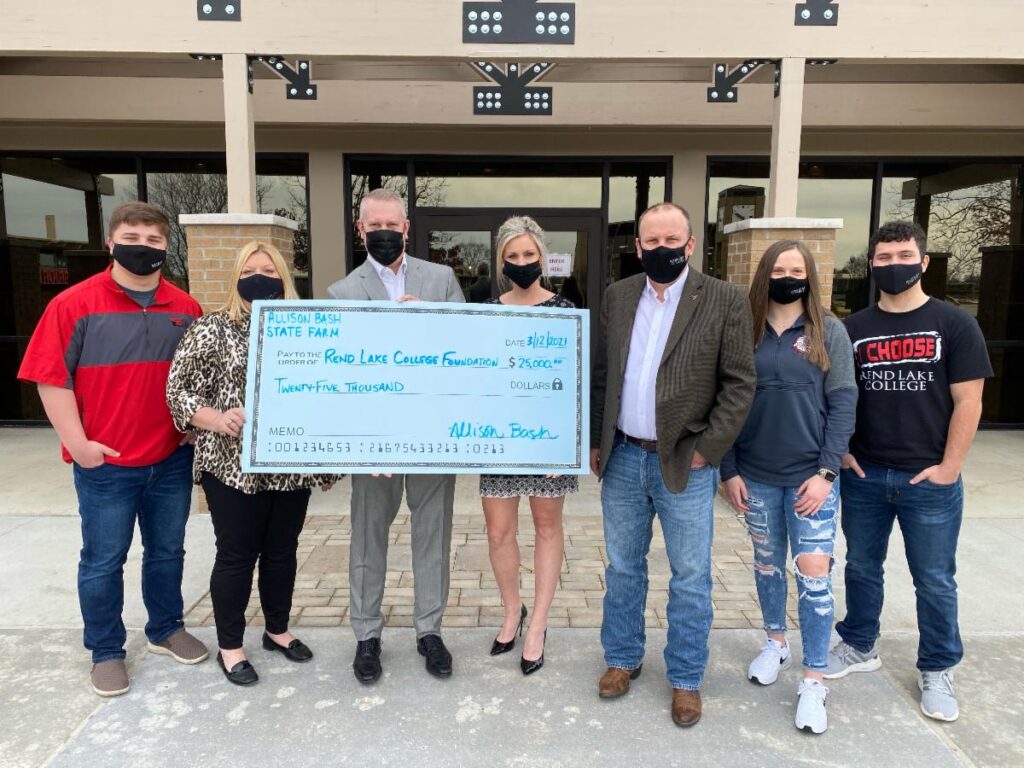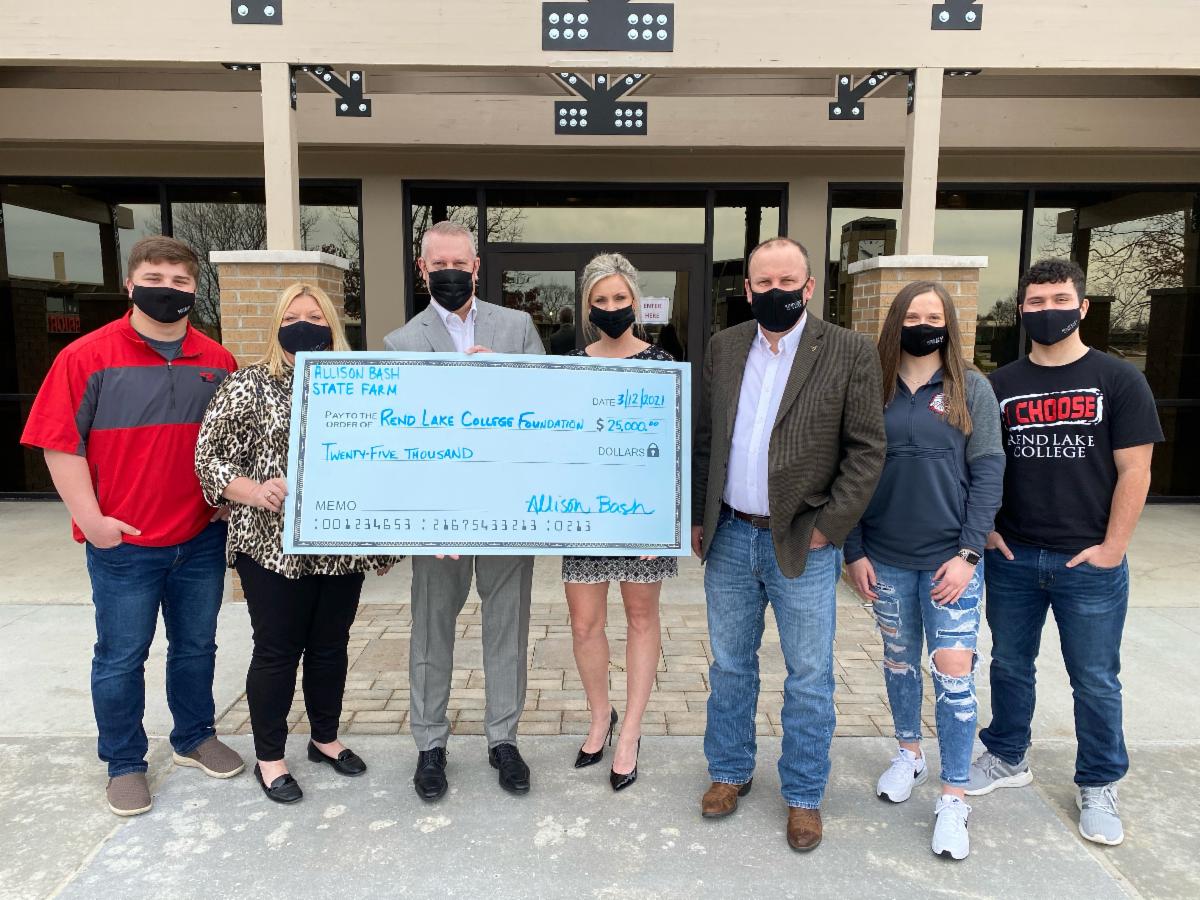 Allison Bash State Farm presented a $25,000 gift to the Rend Lake College Foundation to support the Learning Resource Center expansion on the Ina campus. Allison and her husband, RLC Foundation Board Chair Robert Bornheimer, visited campus to present the gift and tour the center last Friday. Accepting the gift on behalf of the college and the RLC Foundation were RLC President Terry Wilkerson, RLCF CEO Kay Zibby-Damron; and a trio of Rend Lake students – Elijah Gunter (Sesser), Annibelle Harrison (Mt. Vernon) and Reid Basso (Sesser). FROM LEFT; Gunter, Zibby-Damron, Bornheimer and Bash, Wilkerson, Harrison and Basso.
INA, IL (March 17, 2021) – Allison Bash State Farm, along with the State Farm Insurance Foundation, have pledged a $25,000 gift to the Rend Lake College Foundation's expansion project for the campus Learning Resource Center. Allison and her husband, RLCF Board Chair Robert Bornheimer, presented the gift and toured the center last Friday.
The renovations include a new façade, six learning collaborative study rooms, a central outdoor study and a social area for students. Other additions are an enhanced career tech and student support services with a wellness room, lab and classroom areas as well as a children's library.
In 2019, the Rend Lake College Foundation started a $765,000 capital campaign called The Hub. Construction began in late August 2020, and the renovations are nearly complete. The LRC is available for limited use by students and faculty.
"Allison and I have provided scholarships for years, but we wanted to do something that would create a positive impact for all students of Rend Lake College," Robert Bornheimer said. "Rend Lake College is a tremendous asset for Southern Illinois, and we wanted to be part of making it an improved environment for current and future students."
"As the Chairman of the RLC Foundation Board of Directors, Robert leads by example through his service, advocacy and financial support of his alma mater. Robert and Allison have a passion for giving back to the community in meaningful ways and we are very grateful for their generous investment in Rend Lake College and our students," said RLC Foundation CEO Kay Zibby-Damron.
"Bob has been a longtime supporter of our institution, and this is just one of many examples over the years of his contribution to making our college stronger and better for the students. As the current chair of our Foundation Board of Directors, his leadership and support has been instrumental in the success of this project," said RLC President Terry Wilkerson.
ABOUT REND LAKE COLLEGE (RLC)
Rend Lake College is a nationally ranked college in southern Illinois with campuses located at Ina, Mt. Vernon and Pinckneyville. Founded in 1967 and nationally accredited by the Higher Learning Commission since 1969, Rend Lake College provides its district and the region with real world educational opportunities through more than 100 degree and certificate options. RLC's mission is to provide open access to lifelong education across cultural and economic boundaries to the diverse student population we serve. We believe every employee has a part in serving our students and community, as we strive to be student-focused, authentic, and resourceful. Embedded in every program of study are RLC's four fundamental learning objectives: critical thinking, problem solving, oral communication, and written communication.