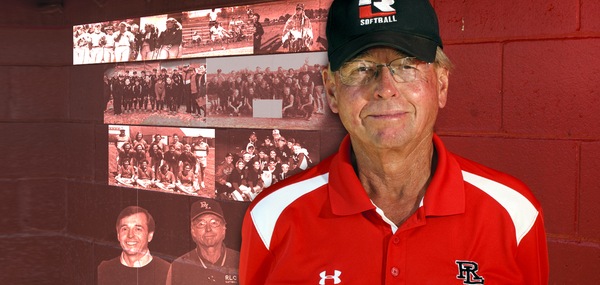 INA, Ill. (July 14, 2020) — Many things have changed since Dave Ellingsworth took over the Rend Lake College softball program nearly three decades ago.
Google didn't exist yet, Timothy Dalton was James Bond, and Illinois' minimum wage was $4.25. Even RLC had only just started accepting major credit cards for books and tuition. It was a different world in 1993.
"But the game has pretty well remained the same," Ellingsworth said.
One thing that won't stay the same this season is who will be coaching the Lady Warriors. After 27 years, Ellingsworth announced he will be retiring from the position. He was been with the college, either teaching or coaching, for 43 years. The Rend Lake College Board of Trustees accepted, with deep regret, his resignation at Tuesday's meeting. RLC President Terry Wilkerson called the coach a "staple" at RLC for 43 years both coaching and teaching.
"I just knew it was time," Ellingsworth said. "There are not too many people my age still doing this. But it's been a great career as both an educator and a coach."
Ellingsworth was met with plenty of well wishes from his players and co-workers when he announced his decision to the team last week.
"Dave Ellingsworth has been a friend, colleague and mentor to me over my 28-year career at Rend Lake College. The institution will miss him, and I will personally miss him as he retires from his position as head softball coach," said RLC Athletic Director Tim Wills. "His coaching record speaks for itself, but the impact that he has had on the young people and the coaches with whom he has worked are his greatest contributions. I want to thank him for his many years of dedicated service to our athletic department and for his great friendship."
Ellingsworth racked up 949 wins, the most in school history. He was the Great Rivers Athletic Conference Coach of the Year in both 1994 and 2000 and was the 1996 Region XXIV Coach of the Year. He was also named the Fellowship of Christian Athletes Scott Tickner Huddle Coach of the Year in 2009.
Other team highlights under Ellingsworth include GRAC championships in 1994 (14-1) and 2000 (12-2 co-champs); Region XXIV champions in 1996 along with the program's first and only appearance in the NJCAA Fast-Pitch National Championships. The Lady Warriors had Region XXIV runner-up showings in 2002, 2003 and 2007, and five third-place finishes in the Final Four between 1998 and 2008. Plus, his teams have featured dozens of All-American selections and Academic All-Americans.
And it was the players that Ellingsworth credits for all his success on the diamond. He said he's had a lot of great, high-character competitors under his tutelage throughout his career.
"I've been so fortunate to have lots of really good athletes," he said. "You can be a great college coach with average talent and you'll get your butt whipped. Or you can be an average college coach and have great talent and you'll win."
And while winning was always a priority for the Lady Warriors, setting his players up for success after their time at RLC was Ellingsworth's main goal.
"When you're coaching, you are still supposed to be an educator. So, you just hope you've made a positive impact," he said.
Ellingsworth's ties to Rend Lake College go all the way back to when he was a student at Mt. Vernon Community College, sitting next to his future wife Vicki in Wayne Arnold's health class. The 1965 MVCC grad would go on to serve as a decorated helicopter pilot in the Vietnam War before eventually returning to Southern Illinois where he taught in the aviation program at Southern Illinois University-Carbondale. Then in 1977, he was hired as an industrial technologies instructor at RLC where Jim Waugh happened to be looking for help coaching the softball team.
"They wanted an assistant softball coach," Ellingsworth said. "He talked my department chair into making me the assistant."
Ellingsworth didn't have any experience at the college level, although he had spent many years coaching his son and daughter at various youth levels of baseball and softball. But after spending six seasons under Waugh, Ellingsworth took the reins in 1993. One major difference between then and now, Ellingsworth said, is the recruiting. As women's sports have continued to grow across the nation, recruiting has become much more competitive. Ellingsworth said in his first few years, it wasn't difficult to stock a team with local athletes.
He may not be entirely done with recruiting yet. Ellingsworth said he would be available to help out in any way when RLC names a new coach.
"I want to try and make the transition as smooth as possible," he said.
He added quitting cold turkey would be difficult. Ellingsworth said it's been a privilege to work with "the best faculty and staff, and at one of the best community colleges in the nation." Coaching is a job he truly enjoyed, especially with the colleagues he got to work with.
"Most people want to leave work to go see their friends," he said. "I got to come to work to see mine."