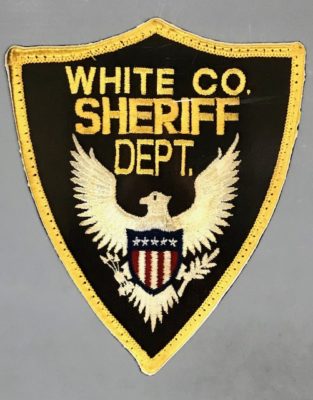 On Monday just after midnight, Deputy Brown responded to 311 North Powell Street in Norris City and spoke with 29 year old Erica Lynn Roberts, who said she went to Haley Stocke's residence at 224 County Road 1900 North in Enfield to retrieve her keys, purse and wallet, which she believed had been stolen from the Norris City home, which belongs to 32 year old Kiefer Best.  Roberts then retrieved her things and said an argument took place between her and Best, and that Stocke came out and put a hoe through the windshield of a 2006 Ford Taurus, registered to Roberts' mother, Jill Shaw of Norris City. Roberts also claims Stoke later scratched up the hood of the vehicle in Springerton.
Erica Roberts filed a complaint with the Sheriff's Department.  The damage to the windshield and the scratches to the hood of the Taurus were photographed by the   Deputy, who will attempt to follow up with Stocke at a later date.
Saturday at a quarter before 10 AM, Officer Spencer responded to Lisa Fortner, 62, of 405 West Rudolph Street, Apt. 105 in Crossville concerning a report of someone having entered the apartment without permission.  Fortner said she left her apartment at about 12:30 PM Friday, and when she returned at about 5:30, noticed about an hour later handprints on her east-facing kitchen window.  She then noticed the screen from the window had been removed.  When she went out the back door she saw that it was unlocked and the exterior storm door was propped open.  After exiting the apartment, Fortner found a small bag of what she believed to be marijuana laying on her patio swing, and the screen on her north-facing bedroom window had been cut and the window was partially pushed in.  Officer Spencer saw handprints on the glass of the kitchen window that were not usable, but did find noticed the marks appeared to have been made by someone with smaller hands,  Fortner said she had some issues with a juvenile in the area and said it was possible they entered the home.  The bedroom window screen had been cut cleanly, indicating a knife or other sharp object was used.  Fortner said she had already thrown away part of the cut screen and the bag of suspected marijuana. The White County Housing Authority will be contacted by Officer Spencer to attempt to obtain video footage of the complex and Fortner will also contact the Housing Authority to report the damage that needs to be repaired.
Just after 3 PM Friday, 77 year old Albert "Rusty" Walsh phoned the Sheriff's Department to report someone dumping trash into a ditch on the west side of County Road 1500 East, about half a mile north of County Road 1500 North.  When he looked into the trash, he saw several pieces of mail showing the name "Linda Asbury" with an address of 303 Walnut Street in Allendale.  The address was confirmed from a Soundex search by the Sheriff's Department. The Wabash County Sheriff's Department was contacted and gave them Asbury's phone number.  She was contacted and left a voicemail to call the White County Sheriff's Department about the matter.  A report was filed on the incident, with a follow up as more information becomes available.
Mike Lydick, 73, of Enfield contacted the Sheriff's Department Friday Afternoon to report identify theft.  Lydick said he recently became aware of an issue with his credit report showing he had a past due account with Cox Communications in Phoenix Arizona.  After contacting them, he found someone had opened an account using Lydick's name and address to obtain cable TV services for about six months.  Lydick said he did not authorize the account and that he doesn't know who the person may have been.  Cox advised him to file a report so the account can be removed from his credit history.  An incident report was filed with the Sheriff's Department.
A wallet was stolen from a vehicle parked at the residence of 26 year old Brittany Rees of Carmi, who said she left her wallet there when she parked in front of her residence at 1007 West Sycamore Street at about 7:30 PM Friday.  When she went to her vehicle Saturday just after noon, she discovered the wallet had been taken.  Her car had been unlocked while it was parked overnight and her driver's license, two Illinois Link cards, an Illinois WIC card, a First Bank Debit card, two Capital One credit cards and four Social Security cards were in the wallet.  Rees had already cancelled her debit and credit cards and said she would contact the State of Illinois about the Link and WIC cards.  She also said she received a text message from a neighbor saying they saw an unknown male and female in the area at about 2 in the morning Saturday and were looking into car windows.  Rees was advised to watch her bank accounts and credit card accounts and report any fraudulent activity.  A report was filed on the incident.
There were also four arrest warrants issued over the weekend.
At 11 PM Friday, when Deputies arrived at the residence of Jeremiah Burnett, 37, of Crossville, he reported he believed that his Chevrolet Tahoe had been stolen but wasn't sure.  He decided he should speak with his aunt about the situation.  Burnett said he had given the vehicle to his aunt, but wanted it left in his name for a year and a half.  He said the title is now missing and suspects the Tahoe is stolen, but hadn't talked to his aunt about where the car might be.  Burnett was advised that he was wanted on a White County warrant for Failure to Appear on charges of Unlawful Use of Property and Aggravated Battery.  Burnett was taken to the White County Jail and bond was set at $500 cash.
Friday at around 6:15 PM, Kevin Michael Rector, 33, of Carmi was served a warrant for Failure to Appear on a Domestic Battery and was taken to the White County Jail.  Bond was set at $500 cash.
At about 1:30 Friday afternoon, 49 year old Damin Ralston of Carmi went to the Sheriff's Department to turn himself in on a White County warrant for his arrest on Domestic Battery (Strong Arm – Non Family Member) and Disorderly Conduct.  Ralston was taken to the White County Jail and released after posting $250 cash bond and a $20 booking fee.
And on Monday at about 11 in the morning, Curtis Bertram, 38, of Carmi, turned himself in on a Hamilton County warrant for Failure to Appear and Possession of Anhydrous Ammonia with Intent.  He was taken to jail and released after posting $350 cash bond.