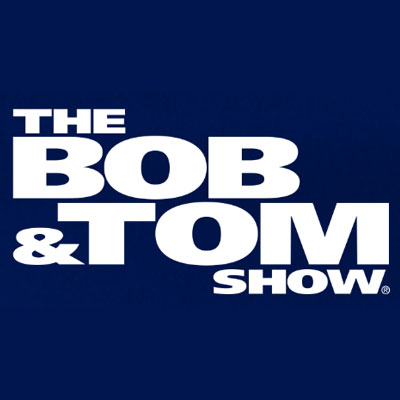 Bob & Tom
About
Bob & Tom
Focusing on comedy and talk, The BOB & TOM Show is a mash-up of news, sports, conversation, and interviews that airs live weekdays from 6-10am EST on radio stations from coast to coast.
The show is America's leading media outlet for the best comedians…whether they are already household names, or still paying their dues on the road.
In addition to the live, spontaneous comedy of hosts and guests, The BOB & TOM Show features movie & TV show parodies, funny songs, bits and phone calls from a large cast of characters.
These are produced and performed by a large staff of writers, musicians, artists and misfits.
The BOB & TOM Show began national syndication in 1995 from its flagship station, in Indianapolis. The show has won five Marconi Awards (the highest honor in radio) from the National Association of Broadcasters. In 2015, Bob & Tom were inducted into The National Radio Hall of Fame. The show has released over 50 CD's and DVD's, and produced specials for Comedy Central. Each year The Bob & Tom Show presents dozens of live comedy concerts nationwide, via The Friends of the BOB & TOM Show Comedy Tour.