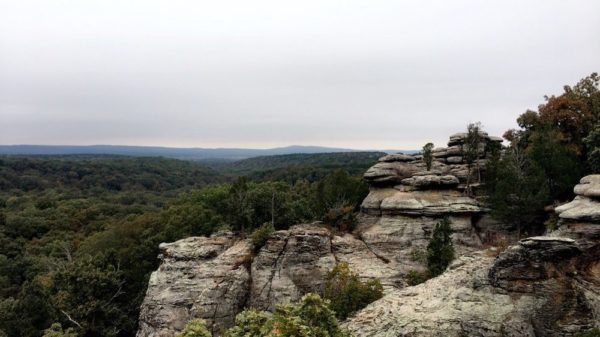 HARRISBURG, IL—January 14, 2021— The U.S. Forest Service announces they will waive fees at many of their campgrounds on special days throughout 2021 as part of the federal land management fee-free program.
"These fee-free days are our way of thanking our many visitors, but also to encourage people to visit the Shawnee (NF) and other public lands," said Acting Forest Supervisor Michael Crump.
Shawnee National Forest campgrounds included in the fee waiver are Garden of the Gods, Pounds Hollow, Camp Cadiz, Pine Hills and Johnson Creek. Concessionaire operated campgrounds are not included in the fee waiver.
2021 Fee-Free Days are:
· January 18 – Martin Luther King, Jr. Day, which honors the legacy of the civil rights leader and encourages Americans to participate in the MLK Day of Service.
· February 15 – Presidents' Day honors our nation's presidents with particular attention towards commemorating former Presidents George Washington and Abraham Lincoln. · June 12 – National Get Outdoors Day (www.nationalgetoutdoorsday.org) a day when federal agencies, nonprofit organizations and the recreation industry encourages healthy, outdoor activities. · September 25 – National Public Lands Day (www.publiclandsday.org) is the nation's largest, single-day volunteer effort in support of public lands.
· November 11 – Veterans Day commemorates the end of World War I and pays tribute to all military heroes past and present.
The fee-free program is in cooperation with other federal land management agencies under the Federal Lands Recreation Enhancement Act. Use the Forest Service interactive visitor map (www.fs.fed.us/ivm) to find a national forest or grassland near you.
America's public lands provide health benefits to visitors. America's national forests and grasslands managed by the Forest Service offer more than 150,000 miles of trails, which include hiking, biking, equestrian and motorized trails, and more than 10,000 developed recreation sites. Visitors can choose a wide variety of recreational activities using more than 57,000 miles of streams, 122 alpine ski areas, 338,000 heritage sites, 9,100 miles of National Scenic Byways, 22 National Recreation Areas, 11 National Scenic Areas, seven National Monuments, one national preserve and one national heritage area.