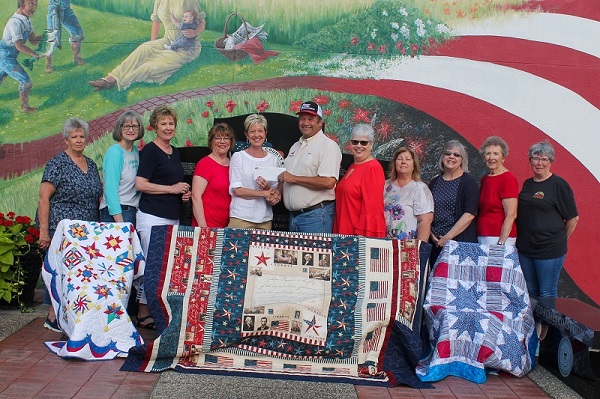 Quilts of Valor
The Wayne County Farm Bureau announced a new initiative in the community to make handmade quilts for Wayne County Veterans. The Farm Bureau recently donated $2,000 to the volunteers of the Wayne County Quilts of Valor.
David White, president of the Wayne County Farm Bureau said, "our organization if very patriotic and we feel that giving the veterans recognition is something we need to do more of. We think this is a great project and we are glad to be a part of it."
Doug Anderson, manager of the Wayne County Farm Bureau said, "without our veterans, we may not be able to farm the land we love. Supporting the Quilts of Valor project is one way we can say thank you for the sacrifice our veterans made for our community."
Wayne County Quilts for Valor is a newly formed group and member of the national organization Quilts for Valor Foundation. Their mission is to make quilts for Wayne County Veterans and present them at a ceremony throughout the year. All of the quilts are made by volunteers, who bind and present them to the veterans. Currently World War Two and Korean War veterans are receiving the quilts. Plans are to present the quilts to younger veterans in the future.
Volunteers are needed to assist with the project and names of Wayne County veterans are also needed.
Call 618-599-8492 if you would like to volunteer for the project or have information about Wayne County Veterans.