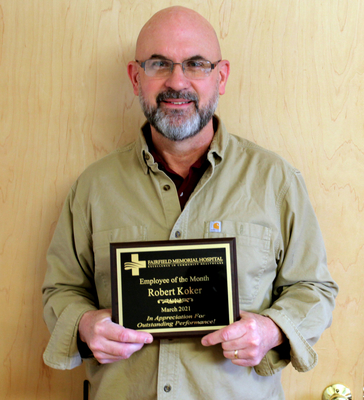 Fairfield Memorial Hospital honors an employee each month who has been nominated by their peers for providing extraordinary patient care and customer service within and outside of the Hospital.
Robert Koker, who works in Plant Operations at Fairfield Memorial Hospital, was selected as the March 2021 Employee of the Month. Robert has been with Fairfield Memorial Hospital since November of 2001. He was nominated for his hard work and dedication to making sure the mechanical and physical plant operations of Fairfield Memorial Hospital meet the needs of our patients, visitors, and staff.
"Robert has been an extremely valued employee for our department for so long. Robert steps up when needed and adjusts to change easily when confronted with new obstacles. He takes his work seriously and works diligently at any task he is given. We are honored Robert was named Employee of the Month from our department." commented Jeff Wise, Plant Operations Manager.
"On behalf of Fairfield Memorial Hospital and myself I would like to congratulate and acknowledge the tremendous success Robert has achieved in receiving the award as March Employee of the Month. Robert plays a crucial role in our team and the operations of our facility. Our Plant Operations staff displays an incredible amount of time and commitment to high quality when it comes to the maintenance and upkeep of Fairfield Memorial Hospital." stated FMH CEO Katherine Bunting-Williams.