Thomas L. Boots
Des Moines, IA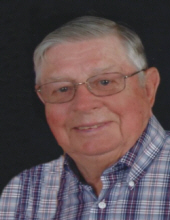 1935 - 2022
Thomas Lee Boots, 87, passed away Friday, December 16, 2022 in Des Moines, Iowa. A Celebration of Life service will be 10:30 a.m. Wed. December 21, 2022 at the United Methodist Church in Afton, Iowa. Burial will be at the Greenlawn Cemetery, near Afton. Open visitation will be from 2 to 7 p.m. Tuesday, with family receiving friends from 5 to 7 p.m. Tuesday at the Powers Funeral Home 612 N. Dodge Afton, Iowa. Memorial may be directed to the church. Online condolences may be given at www.powersfh.com.
He was born September 12, 1935 in Alliance, Nebraska to Sanford and Lillian (Blair) Boots. The oldest of two children, Tom and his brother Bob grew up on a ranch in the sandhills of western Nebraska. Tom attended a one-room elementary school and Alliance High School. He later graduated from the University of Nebraska School of Agriculture in 1953. He proudly served in the National Guard for the following seven years. He was a member of the Masonic Lodge, a former member of the Shriners, served on the board of the United Methodist Church, a former president of the Union County Beef Producers, Elks Club member, and he felt honored to assist with the Iowa Livestock Brand Directory.
Growing up on a ranch, Tom spent much of his life on a horse, riding to school and working cattle, so his last name fit him well! As a child, one of his only playmates was a little girl named Jean Herman, and on June 20, 1954 he married his best friend. To this union three children were born, Karla, Brenda, and Tara. They lived in western Nebraska raising cattle until 1963, and then moved to Ellsworth, NE where Tom owned and operated Boots Machine Shop. His love for ranching prompted a move to Arispe, Iowa in 1966 where he worked on the Russell Cheers' farm to help manage his cattle herd and learn about farming. The following year he bought a farm near Thayer, Iowa where they currently reside. Tom loved the farm and often said "you'll see spur marks across this deck if you ever try to drag me away from this place!"
Upon retirement, Jean and Tom enjoyed traveling across the nation in their 5th wheel and spent the past 25 winters in southern Texas. Alamo was a home away from home because of their winter Texan friends that truly have become like family. One of his dreams was to learn to fly and he loved the few years he spent as a pilot. He had never played golf, but when the local farmers decided to build Lakeshore Golf Club, he was ready to help and learn the game. He was a talented welder and created various pieces of ironwork with his plasma cutter. The family favorite was the creation of his firepots. Tom never met a stranger, and was always ready to have a glass of chardonnay and tell you his opinion on pretty much everything. His positive outlook on life was probably why some of his friends called him lucky, but looking back, we are the lucky ones to have had Tom in our life.
Tom is survived by his wife Jean, brother, Bob (Marcia) Boots of Alliance NE, sister-in-law Konnie Graham of Columbia, MO, daughters Karla (Dave) Tinius of Lincoln NE, Brenda (Gregor) Ware-Roge' of Carmi IL, Tara (Gary Kort) Neal of Lincoln NE; 8 grandchildren, Sara (Cory) Gerner of DeSoto KS, John (Danielle) Tinius of Omaha NE, Thomas Dickey, Trent (Chelsey) Dickey, Troy (fiance' Tayler Hayes) Dickey all of Carmi, IL, Emily (Peter) Johnson of Sidney IA, Katie (Brett) Little, Hank Neal both of Lincoln NE; 4+ great-grandchildren, William and Andrew Gerner, Graham Tinius, Patrick Little, and numerous nieces and nephews.
Preceded in death by his parents, brother-in-law Kim Graham, and son-in-law Pat Neal.