Scott Alan Schuster
McLeansboro, IL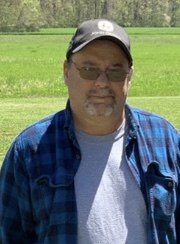 1964-2022
Scott Alan Schuster, age 58 years, passed away Tuesday, October 11, 2022
at his home in McLeansboro, IL. Scott was born on September 30, 1964 in
McLeansboro, IL, the son of Robert Schuster and Jolene (Karcher) Schuster.
Scott attended and graduated from McLeansboro High School and later married
Leesa Michele Schuster April 30, 1988 in Dahlgren, IL .
He was employed by the City of McLeansboro in the Water and Sewer department
as Superintendent.
Scott is survived by his wife Leesa Schuster;  Son, Reegan Schuster and wife
Holly, McLeansboro; his Father Robert W. Schuster (Dorothy Smith), McLeansboro,
Sister, Kendra Collins (David) of Piopolis; Grandchildren, Jolee Schuster, Eva Schuster,
Elsie Schuster and Lucy Schuster all of McLeansboro.
Visitation will be held 10:00 a.m. to 12:00 noon, Saturday, October 15, 2022 at
Harre Funeral Home, McLeansboro, IL and Funeral Service will be held at 12:00
Noon, Harre Funeral Home, McLeansboro with the Burial held in I.O.O.F. Cemetery,
McLeansboro.  Pastor Rodney Brock will officiate the service.
Preceding Scott in Death was his Mother, Jolene (Karcher) Schuster, Grandparents
C.D. & Thelma Karcher and C.J. (Cork) and Rose Schuster.
Memorials in memory of Scott are requested for The Hamilton County Football
Team and will be accepted at Harre Funeral Home, McLeansboro, IL