Ruth Ann Graham
Crossville, IL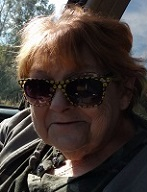 1952 - 2021
Ruth Ann Graham, 69, of Crossville Illinois, passed away on Sunday, January, 17, 2021.  She was born on January 5, 1952, the daughter of Ilus and Sally (Curtis) Vincent.  Ruth worked as a seamstress at Osh Kosh. She enjoyed reading and coloring with her granddaughter, spending time with family, and her favorite dog, Sable.
Ruth is survived by her daughter, Cheryl Ferguson and her significant other of Grayville, IL.; two sons, Corey (Andy Mclaughlin) Ferguson and Rick (Deborah) Ferguson; grandchildren, Abbie, Nicole and Jacob Ferguson and  Nathaniel Terrel; and great-grandchildren, Kaydon, Kindrick and Piper Goff.  She was preceded in death by her parents; one sister, Alice Vincent; three brothers, Joey Vincent, Don and Jimmy Asbury; and one grandchild Ashton Ferguson.
Funeral Services for Ruth Ann Grahm, will be private. Friends and Family may visit from 10:00 a.m. to 12:00 p.m. on Saturday, January 23, 2021. Contributions can be made in Ruth's memory for funeral expenses and will be accepted at Campbell Funeral Home in Carmi who is in charge of arrangements.  In accordance with CDC and IDPH regulations, social distancing will be observed and wearing masks will be required.
Funeral