Roger A. "Purple Beard" Perez
Carbondale, IL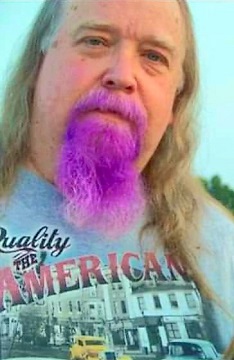 1957-2022
Roger A. "Purple Beard" Perez, 65, of Carbondale, IL passed away on Thursday, May 26, 2022 at his home in Carbondale.
He was born January 6, 1957 in Gadsden, AL the son of Hilaris S. Perez and Ruth (Wheat) Drew.  He had worked as a DJ and audio/visual technician in the entertainment industry.
Roger is survived by his brother, Jimmy Travis Perez of McLeansboro, sister Melba (Rick) Rhine of McLeansboro, best friend, Ashley Denham and her son, Harvey Denham, both of McLeansboro, and several nieces and nephews.
He was preceded in death by his parents, Hilaris Perez and Ruth Drew, his sister, Evelyn Caldwell, and his step-sister, Jewell Smith.
Roger always looked forward to gathering with his family and friends for good times and good music.  Music was Roger's first love in his life.  He created a site, which he named "Southern Illinois Music Scene" so that his friends from all over could share their musical talents, disclose their live shows and venues, and for his absolute passion for promoting local artists.  Through music and his heart of gold, he made lifelong lasting friendships, and was dedicated to putting others first.  This beautiful soul was who we could count on, in good times and in bad, he would be right there for us every time with compassion and kindness to share.  Our friend was a blessing in our lives and gave us our happiest memories that we will cherish forever.
Roger "Purple Beard" Perez - Thank you for making our world a better place, Our Beloved Brother, Rest in Peace.
In accordance with Roger's wishes, his body will be cremated and a Memorial Service will be held at a later date.
Gholson Funeral Home of McLeansboro is assisting the family with arrangements.  Online condolences and expressions of sympathy may be shared at www.gholsonfuneralhome.com
Funeral