Robert "Bob" Mezo
McLeansboro, IL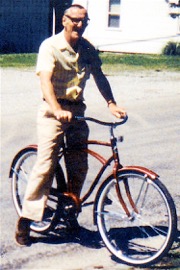 1939 - 2021
McLeansboro stalwart Robert "Bob" Mezo, age 82, passed away peacefully in his sleep Friday, October 15, 2021 at his residence surrounded by close family. 
Bob was born in McLeansboro, Illinois on August 22, 1939 to John Wilson Mezo and Geneva (Deitz) Mezo. Bob attended East Side grade school where he "got my brains", as he put it, leaving many teachers bald-headed in his wake. Bob later became a landscaper and lawn care specialist, tending to the yards of many residents, leading to many lifelong friendships. Bob enjoyed visiting state parks and exploring old graveyards. Bob can, perhaps, be best remembered for riding his bike around town, always going the wrong way on the one-way, he liked to brag. And nothing gave him more pleasure than to be greeted by the three amigos: Lucky, Dillinger, and Tiny, when the chihuahuas came for a visit. 
Bob Mezo is survived by one sister, Nancy (Sempsprott) Markle, of Wheeling, West Virginia and preceded in death by his parents and nine siblings: Jeannine (Novicki) Blackledge, Mary (Mezo) Martin, Judith (Mezo) Hooker, James Mezo, Ira Mezo, David Sempsprott, Tom Sempsprott, William Barker, and John Wilson Mezo, Jr. 
Visitation for Bob Mezo will be from 6:00 p.m. to 8:00 pm on Sunday, October 17, 2021 at the Gholson Funeral Home in McLeansboro with funeral services to be held at 11:00 a.m. Monday, October 18, 2021 at the Gholson Funeral Home in McLeansboro with Pastor Jacob Gray officiating. Interment will follow at Odd Fellows Cemetery in McLeansboro.
The Mezo family thanks Good Samaritan Hospice for their outstanding care and thanks the staff of Gholson Funeral Home for their amazing kindness and consideration during this difficult time. In lieu of flowers the family asks that a donation be considered for Good Samaritan Hospice or St. Jude's Hospital.
Bob was a good man, a simple man who lived in simpler times. Another McLeansboro original is gone and will be sadly missed by his family and all who knew him..