Regina Fern McDonald
McLeansboro, IL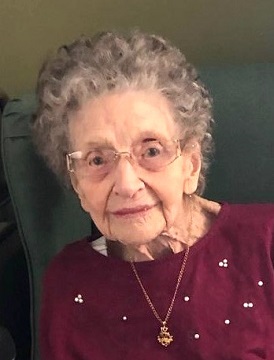 1924-2022
Regina Fern McDonald, 98, of McLeansboro, IL passed away on Wednesday, April 20, 2022 at Hamilton Memorial Rehabilitation and Health Care Center in McLeansboro.
Regina was born January 22, 1924 in Ardmore, OK the daughter of Frank & Selma Alford.  On November 22, 1939 she married Virgil E. McDonald, who preceded her in death on December 16, 1995.
Regina previously worked at a dress shop in McLeansboro, as a seamstress at the Elder Manufacturing factory in McLeansboro, she owned & operated her own Ceramics shop both in Illinois and in Louisiana, and was a homemaker.  She was a member of the Blooming Grove Baptist Church, which she was actively involved with in her younger years.  She was also a member of the Hamilton County Extension Homemakers Association.  She enjoyed making ceramics and sewing.  She especially enjoyed giving one of her ceramic pieces away to a child to paint.  She enjoyed spending time with friends & family.
Regina is survived by 2 sons: Donald (Mary) McDonald of Murphysboro, IL & Ronald (Shirley) McDonald of Cookeville, TN; a daughter Jane Sandusky of McLeansboro, 6 grandchildren: Tina (Bruce) Gerecke, Marty Eugene (Mary) McDonald, Kyle (Amy) McDonald, Gregory Scott (Jackie) Sandusky, Rhonda (Dave) Powell, and Cindy (Stewart) Phelps, 9 great-grandchildren, 7 great-great-grandchildren, a brother Frank (Nancy) Alford of Longview, TX; and several nieces, nephews, and cousins.
She was preceded in death by Frank & Selma Alford, husband Virgil E. McDonald, brother Richard Alford, sister Molly Busby, and a great-granddaughter Stephene Phelps.
Funeral services for Regina Fern McDonald will be held at 1:00 pm on Monday, April 25, 2022 at Gholson Funeral Home in McLeansboro with Brother Bill Miller officiating.  Visitation will be held on Monday from 11:00 am until the time of service at 1:00 pm at Gholson Funeral Home.  Interment will follow the funeral service at Blooming Grove Cemetery in McLeansboro. In lieu of flowers, memorials may be made to the Blooming Grove Baptist Church and will be accepted at Gholson Funeral Home in McLeansboro.
Online condolences and expressions of sympathy may be shared at www.gholsonfuneralhome.com