Phyllis M. Kuykendall
Ash Grove, MO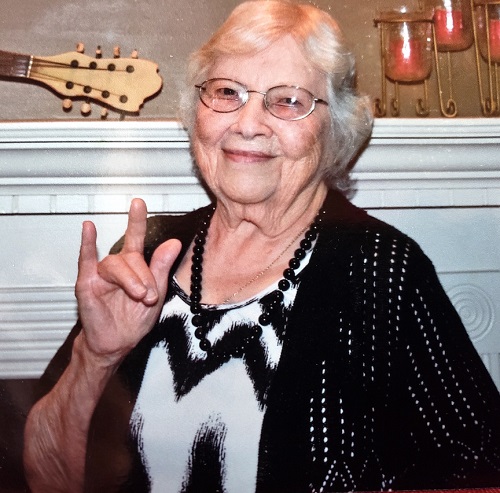 1925 - 2021
Phyllis M. Kuykendall, 96, of Ash Grove Missouri, passed from this life into everlasting life on December 18, 2021.  She was surrounded by her family whom she loved so much.
Phyllis was born on March 18, 1925 in Rockford IL to Floyd and Hildur Nelson. She attended Illinois School for the Deaf in Jacksonville. There she met and later married Samuel "Bert" Kuykendall. They married on Nov. 24, 1945.  Together they farmed and then entered into full time deaf ministry through the United Methodist Conference in Southern Illinois. Bert preceded her in death on Oct. 7th 2012.
Phyllis is survived by her daughter Christine (Manuel) Cordero of Ash Grove, Missouri; grandson Nathan Cordero (Jaime) from PA, and granddaughter Angela Jordan of MO; great grandchildren: Gabriela, Curtis, and Eden Jordan, also Jessica, Jack and Samantha Cordero.
Phyllis was preceded in death by her husband Bert, her parents, brothers: Richard (Lois) Nelson and Robert (Beth) Nelson, foster son Patrick Urban, and nephews: Mike Nelson and Jim Nelson.
Funeral services for Phyllis M. Kuykendall will be held at 1:00 pm on Wednesday, December 29, 2021 at Gholson Funeral Home in Mcleansboro, IL.  Visitation will be held Wednesday from 11:00 am to 1:00 pm with the service beginning at 1:00 pm.  Burial will be in Kuykendall Cemetery in Carmi, IL and will follow immediately after the service.  Services will be officiated by her son in law, Rev. Dr. Manuel Cordero.
Phyllis will always be remembered for her bright eyes and smile. She loved people, having fun, playing scrabble and being around her family. She was a caregiver for so many years without complaint. She is deeply missed by her family and all who loved her.
Memorial contributions may be made to Illinois School for the Deaf, Jacksonville or to the Southern Illinois Conference of the United Methodist Church.
Online condolences and expressions of sympathy may be shared at www.gholsonfuneralhome.com.