Phillis Rossine Kirsch,
McLeansboro, IL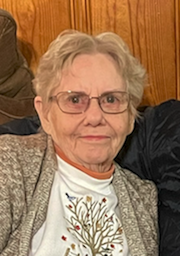 1946-2022
Phillis Rossine Kirsch, 75, of McLeansboro, passed away on Friday, April 1, 2022 at McLeansboro Rehabilitation and Healthcare Center.
She was born April 29, 1946 in Eldorado, Illinois to Sam and Maxine (Feltner) Floyd.  On March 2, 1973, at the St. Clement's Catholic Church in McLeansboro, Rossine married Donald Marvin Kirsch, who survives.  Rossine had many jobs throughout her lifetime.  She worked at the Elder Shirt Factory and Teffertiller's, both in McLeansboro.  She also worked as a cook at the truck stop in Burnt Prairie and at Hamilton Memorial Hospital in McLeansboro.  Rossine had worked as a school bus driver and most recently as a sales associate for Wal-Mart.  She was always a proud farm wife.  Rossine was of the Christian faith and when her children were growing up, she always helped out at church and in the PTO.  She also served as a secretary for the North American Sheep Dog Society.
Rossine is survived by her husband Donald Kirsch of McLeansboro, three children: Twyla Hungate of McLeansboro, Christopher (Angela) Lueke of Carmi, and Jason (Mari) Kirsch of McLeansboro, seven grandchildren: Danielle Corbett of McLeansboro, Justine Chambliss of Wayne City, Hannah Lueke and Lucas Lueke, of Carmi, and Keagan Johnson, Chloe Kirsch, Oliver Kirsch of McLeansboro, 4 great-grandchildren and one sister: Irene Zenthoefer of Lockport, LA.  Several nieces, nephews, great-nieces, and great-nephews also survive.
She was preceded in death by both parents, her first husband Ronald Lueke, brother Philip Floyd, sisters Violet Lasater and Arlene Riley, and infant brother Billie Floyd.
A graveside memorial service will be held on Friday, April 8, 2022 at 10:30am at Old Springer Cemetery near McLeansboro with Pastor Rick Floyd officiating.  Those wishing to attend the service are asked to meet at the cemetery.  For those attending the graveside service, a meal will be held immediately following at the Laborers' Local 1197 Union Hall at 109 W. Market St. in McLeansboro.
Online condolences and expressions of sympathy may be shared online at www.gholsonfuneralhome.com
Funeral