Phil "CAVEMAN" Lager
Dale, IL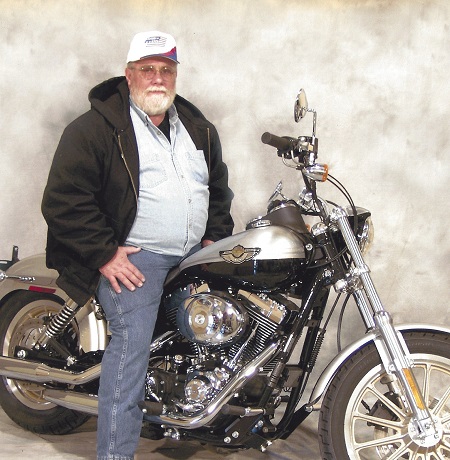 1948 - 2021
Age:                         73 years
Residence:               Dale, IL
Passed Away:       2:10 A.M., Thursday, November 11, 2021 at Carrier Mills Nursing & Rehabilitation Center, Carrier Mills, IL
Funeral Service:   GRAVESIDE SERVICES WILL BE HELD AT 11:00 A.M. SATURDAY,  NOVEMBER 13, 2021 AT  DIGBY  CEMETERY, DALE, IL   GRAVESIDE MILITARY RITES WILL BE ACCORDED BY AMERICAN LEGION POST 106 AND A MARINE CORP MILITARY HONOR TEAM.
Speaker:               Debra Voelz
Burial:                  DIGBY CEMETERY,  DALE, IL
Date of Birth: August 14, 1948       Place of Birth: McLeansboro, IL
Father:   Philip Lager                          Mother:  Mildred (Neunlist) Lager
Marriage To:   Donna Kay (Garner) Lager in 1994 at their home in Dale, IL. She passed away January 8, 2015.
Occupation:  Phil worked as a Laborer and was retired. He graduated from McLeansboro Township High School with the Class of 1968 and he loved living life—riding motorcycles and was a member of "Stormriders" of Southern Illinois. He was known as "CAVEMAN".
Military Service:  He served in the U.S. Marines as a Corporal with full Military Rites
Activities:    Phil was a Past Member of the Walpole Tuscan Lodge 630 A.F. & A.M. for over 50 years and was currently a member of Polk Lodge 137 A.F. & A.M. of McLeansboro.  He was also a member of the Scottish Rite Lodge - Valley of Evansville and Ainad Temple Shriners of Evansville.  He was also a member of the McLeansboro Elks Lodge BPOE 1882.
Church Affiliation:   Phil was Baptist by Faith.
Survivors:
Sister:   Jeanette Lager,  Muddy, IL
Niece:  Debra Voelz and husband Edward,  Muddy, IL
Nephew:  Rodney Ritcheson and companion Janice Chiodini, Muddy, IL
Great Nieces:  Rachel Russell and Lynsi Alavanja
Great Nephew:  Rodney Ritcheson II
PRECEDED IN DEATH BY:  Parents and wife Donna Kay Lager
HARRE  FUNERAL  HOME,  McLeansboro,  is in charge of  arrangements.
Service