Pearl Dulcina Lydick
Cowling, IL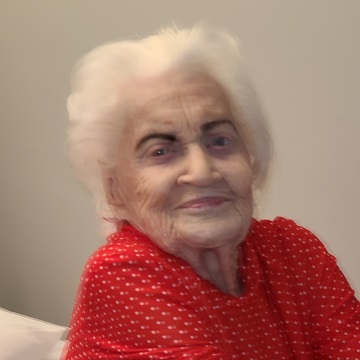 1922-2022
Pearl Dulcina Lydick, 100, formerly of Cowling, Illinois, died Tuesday, April 26, 2022, at Oakview Nursing and Rehabilitation in Mt. Carmel, Illinois.  She was born April 14, 1922, in Cowling, the daughter of Henry and Lelo (Lambert) McReynolds.  She was married to Laurl R. Lydick, and he preceded her in death on August 12, 2008.
Pearl was a homemaker and member of the Cowling Free Methodist Church.
Survivors include son Mike Lydick of Enfield, Illinois; grandchildren Scott, Wynona, Lynn and Patrick; numerous great grandchildren; and numerous nephews and nieces.
She is preceded in death by her parents; husband; and son Daniel Hicks.
Visitation and funeral are Thursday, April 28, 2022, at Cook Funeral Chapel in Grayville, Illinois. Visitation is at 9 am and funeral is at 10 am, with burial in Antioch Cemetery near Cowling.
Memorials may be made to the American Cancer Society, P.O. Box 22478, Oklahoma City, OK 73123.