Pauline Kennedy
McLeansboro, IL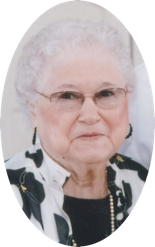 1924 - 2022
Pauline Kennedy, 97, passed away Monday, February 14, 2022 at Hamilton Memorial Hospital in McLeansboro, Illinois.
She was born June 27, 1924 in McLeansboro, IL to Clarence and Carrie (Higginson) Harrison.  On June 23, 1944 Pauline married Ralph Thomas Kennedy, who preceded her in death on August 2, 1994.  Pauline was a retired cashier, having worked at Farmer's State Bank in Dahlgren for 25 years. She also worked as a private secretary for two years for George Hogan, a lawyer and judge.  Pauline was an avid quilter, known for her knowledge and historical interest in quilting.  She liked doing crossword puzzles, reading presidential biographies, learning facts about the presidents, and loved spending time with her family and friends. Pauline was a member of the First United Methodist Church in Dahlgren and also a member of the First United Methodist Women's Society of Dahlgren.
Pauline is survived by three sons: Daryl (Brenda) Kennedy of Dix, IL, Donald (Kay Lowery) Kennedy of Dahlgren, IL and Jay (Pennie Anselment) Kennedy of Dahlgren, IL;  one daughter Leesa (Jerry) White of McLeansboro, IL; eight grandchildren: Robert Kennedy, Kimberly Rubenacker, Holly Kennedy, Matthew Kennedy, Katie Milligan, Eric White, Derek Kennedy and Michelle Brown; and ten great grandchildren: Kiersten Kennedy, Sadie Winschief, Dawson Rubenacker, Kennedy Milligan, Cameron Milligan, Nash Kennedy, Zane Kennedy, Harrison Kennedy, Avery Brown and Jailyn Brown.
She was preceded in death by both parents, her husband Ralph Thomas Kennedy, and four sisters: Wilma Harrison, Monda Harrison, Juanita Hunter and Rosemary Faught.
Funeral services for Pauline Kennedy will be held Friday, February 18, 2022 at 12:00 p.m. at the First United Methodist Church in Dahlgren, IL with Pastors Russell Anderson and Lester Graham officiating.  Visitation will be Friday, February 18 from 10:00 a.m. until the time of service at the First United Methodist Church.  She will be laid to rest at the IOOF Cemetery in Dahlgren.
The Gholson Funeral Home of Dahlgren has been entrusted with arrangements.
Service