Paul Edward Martin
McLeansboro, IL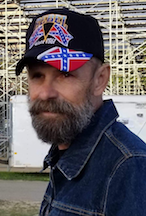 1953-2022
Paul Edward Martin, 68, of McLeansboro, IL passed away at his home on Friday, April 22, 2022.
Paul was born December 18, 1953 in McLeansboro to Gilbert and Maxine (Johnson) Martin.  He later married his wife, Mary Martin, who survives.  He worked as a general laborer.  Paul was a United States Army Veteran, having served during the Vietnam War.  He was a member of the McLeansboro American Legion Post #106 as well as the McLeansboro Eagles Aerie #2699.  He loved fishing, camping, and spending time with his friends and family.
Paul is survived by his wife: Mary Martin, three step-children: Christy Joanne White, Maryanne White, and Carman Gantz, four step-grandchildren: James W. Myers, Joseph Myers, Kasey Gantz, and Rain Lamb, and two brothers: Bob Martin and Dale Martin.
He was preceded in death by his parents, two brothers: David Martin and Dean Martin, and one sister: Mildred Ray.
A graveside memorial service will be held on Friday, April 29, 2022 at 11:00 am at Hopewell Cemetery near McLeansboro with Pastor Rick Floyd officiating.  Military rites will be conducted by the McLeansboro American Legion Post #106 and a United States Army Honors Team from Marion, IL.  Those attending the service are asked to meet at the cemetery.
In lieu of flowers, memorials may be made to the care of Mary Martin, which will later be distributed between the American Legion and the Eagles.
Online condolences and expressions of sympathy may be shared at www.gholsonfuneralhome.com
Funeral