Nathaniel Thomas Ridings
Dahlgren, IL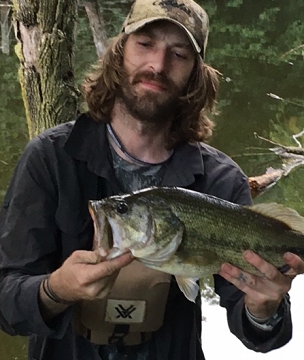 1986-2022
Nathaniel Thomas Ridings, 35, of Dahlgren, IL passed away on March 21, 2022 in Marion, Arkansas.
He was born on August 21, 1986 in Hoffman Estates, IL, to Pam (Page) Ridings and Lyndon Ridings.
Nathaniel was of the Baptist faith.  He enjoyed golfing, hunting, fishing, spending time outdoors, skateboarding, and reading.  His favorite book was To Kill A Mockingbird.  He also loved spending time with his family, entertaining his younger family members, and having breakfast with his grandfather, Gordon.
He is survived by his parents: Pam (Page) Ridings of Marion, AR and Lyndon Ridings of Marion, AR, his grandparents: Patti and Gordon Page, of Dahlgren, IL and Dorothy Urfer of Elgin, IL, one brother: Lenny (Sandy) Ridings of Benton, IL, one sister: Lee (Courtney) Ridings of West Memphis, AR, four uncles: Stephen (Lori) Page of Sycamore, IL, Michael Page of Dahlgren, IL, Dan (Ava) Ridings of Sweden, and Thomas (Sara) Ridings of Bartlett, IL, two aunts: Kathy Valentini and Karen Behm, one nephew, Kyren Ridings of Marion, AR, and one niece Rylee Ridings of Benton, IL.  Several cousins, great-uncles, and great-aunts also survive.
He was preceded in death by his grandfather, Urban Ridings, who a veteran having served in the United States Air Force.  Nathaniel always admired and respected his military service to his country.
A graveside memorial service will be held at 11:00 a.m on Saturday, April 30, 2022 at the I.O.O.F. Cemetery in Dahlgren, IL with Pastor Greg Hughes officiating. In lieu of flowers, memorial donations may be made to the Dahlgren I.O.O.F Cemetery or to the Dahlgren Community Church.
Funeral