Mary Olive Whitsitt
Henderson, KY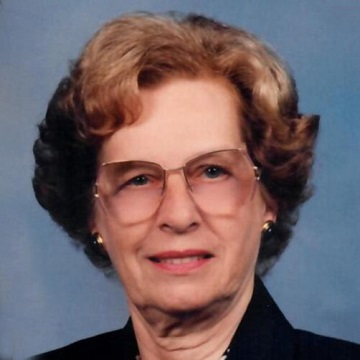 1925-2022
Mary Olive Whitsitt, 96, of Henderson, Kentucky, formerly of Carmi, Illinois, passed away peacefully on March 28, 2022, following a brief illness.  She was born September 15, 1925, in Enfield, Illinois, the daughter of Walter and Elizabeth "Lizzie" (Fields) Land.
Mary graduated from Enfield high school and moved to Evansville, Indiana, to help with the war effort by working in one of the production factories there. She was married to Hubert Stanford Whitsitt on March 11, 1945, and he preceded her in death in 2002. Throughout their 57 years of marriage, they loved to travel with their family and friends from Carmi and Henderson and with their "winter friends" from Ft. Myers, Florida. In 1973, they moved to Henderson where she lived the rest of her life.
Mary's life revolved around making a loving home for her family and living a Christian life.  She was a Brownie and Girl Scout Leader, Sunday school teacher, room mother, and Bible school teacher.  She was a life-long member of the First United Methodist Churches in Enfield, Carmi, and Henderson and a member of the Henderson Afternoon Homemakers Club. She especially enjoyed volunteering for many years in the Henderson church office.
She was a skilled seamstress, enjoyed playing the piano, needlepoint, shopping, and cheering for the University of Kentucky Wildcats.  In her later years, she enjoyed playing bingo at Colonial Assisted Living.  Her cooking skills were exceptional, and she especially enjoyed making desserts for Junior.
Survivors include children Rebecca (Dr. Charles) Heck of Owensboro, Kentucky, Gail (Steve) Ross of Newport Beach, California; grandchildren Dr. Nathan (Dana) Stocke, Collin Stocke, Dr. Kendall (Dr. Sanaya) Stocke, Grayson (Ally) Ross, Braden Ross, Taylor Ross; step-grandchildren Dr. Kristin Heck, Adam Heck, Elisabeth Harrington; great-grandchildren Brandon Stocke, Drew Stocke, Haley Ross, Connor Stocke; In-laws Jenny Lamont, Frances Whetstone, Delores Whitsitt, Jerri Whitsitt; and many nieces and nephews.
She is preceded in death by her parents; husband; and brother Maurice Land.
The family wishes to thank the caring staff of Colonial Assisted Living for their kind help and support of Mary for the past 11 years, and the compassionate care of the nurses and staff at Henderson Deaconess Hospital.
Expressions of sympathy may take the form of donations to the First United Methodist Church, 383 Third Street, Henderson, KY 42420.
Visitation and funeral are Friday, April 1, 2022, at Cook Funeral Chapel in Carmi.  Visitation is at 1 pm and funeral is at 2 pm.  Burial is in White County Memorial Gardens near Carmi.