Mary Jane Kleinschmidt
Grayville, IL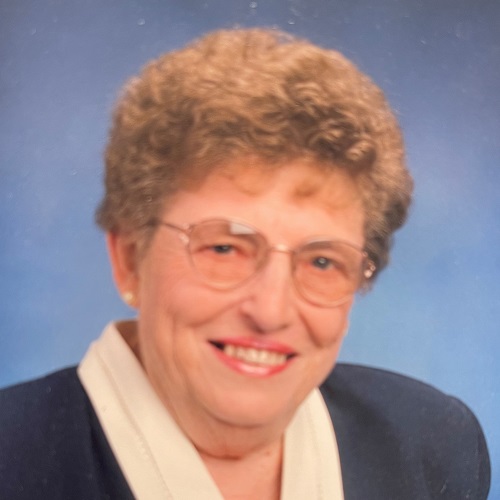 1932 - 2022
Mary Jane Kleinschmidt, 89, of Grayville, Illinois, died Thursday, March 31, 2022, at Wabash Christian Village in Carmi, Illinois. She was born June 21, 1932, in Mt. Carmel, Illinois, the daughter of Walter Raymond "Chiney" Gray and Eva Mae (Newman) Gray. She was married to Adolph Fred Kleinschmidt on December 31, 1950, and he preceded her in death on July 9, 2012.
Jane worked in the banking industry as a bookkeeper. She was a member of the First Christian Church in Grayville where she previously taught Sunday school. Her pastimes include playing piano, cooking and flower gardening.
Survivors include sons Randy (Deb) Kleinschmidt of Grayville, Jeffrey (Lisa) Kleinschmidt of Evansville, Indiana; grandchildren Eric (Melissa) Kleinschmidt, Zachary (Jamie) Kleinschmidt, Aaron (Dawn) Kleinschmidt, Andrew (Joni) Kleinschmidt; great grandchildren Sydney, Ethan, Sutton, Charlotte, Kenna, Zane, Josie, Ava, Ian, Chandler and Chase; and one great great grandchild.
She is preceded in death by her parents; husband; grandson Aiden Kleinschmidt; siblings Walter Gray, Bill Gray, Laura Gray, Irene Carr, Lou Culver, and Alice Baumgartner.
Visitation and funeral are Monday, April 4, 2022, at Cook Funeral Chapel in Grayville. Visitation is at 10 am and funeral is at noon. Burial is in Oak Grove Cemetery in Grayville.
Memorials may be made to: Cystic Fibrosis Foundation, 4550 Montgomery Ave. Suite 1100 N, Bethesda, MD 20814, or they will be accepted at Cook Funeral Chapel in Grayville.