Marie Sadler
McLeansboro, IL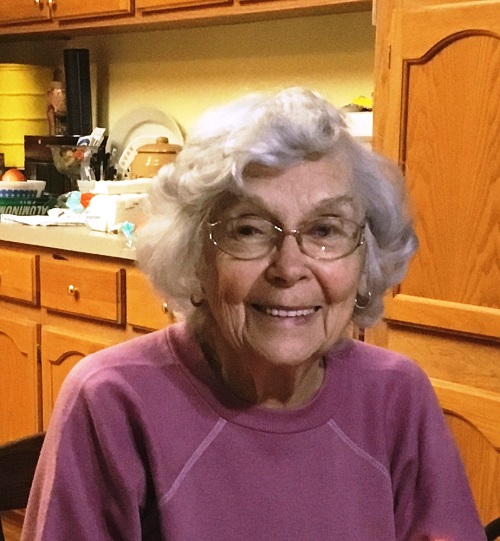 1926 - 2022
Age  95 and a resident of McLeansboro, passed away at 7:15 A.M., Tuesday, February 15, 2022 at Ferrell Hospital in Eldorado, IL.
A gathering of family and friends will be held from  11:00 A.M. to 1:00 P.M.  Friday, February 18, 2022 at Harre Funeral Home,  McLeansboro, IL
The funeral service will be at 1:00 P.M. at Harre Funeral Home, McLeansboro Reverend Bill Reed will officiate.
Date of Birth:   March 8,  1926       Place of Birth:  McLeansboro, IL
Father:  Martin R. Turrentine       Mother:  Myrtle (Sandusky) Turrentine
Marriage To:  Cleo Robert Sadler on July 21, 1942 in  MO.  He passed away April 3, 1998.
Marie was a Homemaker.
Marie was a Charter member of Home Extension Assoc; a 65 year member of Rebekah Lodge #687; she was a cook, music director and librarian at Anderson School and she was an original member of the Hamilton County Bottle Club & Flea Market. She was the longest serving Election Judge of Hamilton County, IL, serving on various local and state levels. She traveled throughout the United States with her husband during his laying of oil and natural gas pipelines. Marie loved to garden and work in her flowers and yard as well as cook and entertain.  She never met a stranger!! She and her husband spent many hours with their closest friends when they were all not off on a job--- they were one big family.
She was a member of The First Presbyterian Church,  McLeansboro, IL
Survivors include:
3 Sons:   Roger  Cleo Sadler and wife Barbara of Little Rock, AR
Larry  Ray Sadler and wife Linda of  Denver, CO
David  Stephen Sadler and wife Allison of  Du Quoin, IL
5  Grandsons:   Sean Sadler & wife Shannon;  Philip Sadler & wife Jodi;
Justin Sadler ;  Steven Sadler;  Adam Sadler & wife Ayla
2  Granddaughters:   Kathryn Marie (Katie) and Stephanie Marie Sadler
10 – Great - Grandchildren: Liam Sean, Dillon Wedel, Ryan Hunter,  Jenna Marie, Tyler Morrison, Gunner Michael, Harmony Grace, Journi Rae, Leo James and Desmond Alexander Sadler
Numerous Nieces and Nephews
Marie was preceded in death by her Parents,  Husband Cleo; Brother, Martin
Ray Turrentine and Sister Ella (Turrentine) Lewis
HARRE FUNERAL HOME, McLeansboro, takes honor in caring for Marie's arrangements and assisting  her family in their time of sorrow.