Lena Faye Ingram
McLeansboro, IL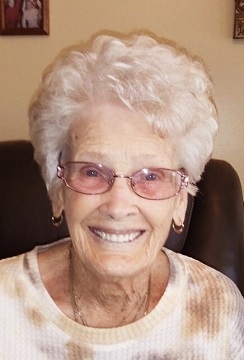 1928-2022
Lena Faye Ingram, 94, of McLeansboro, IL passed away Monday, February 7, 2022 at Hamilton Memorial Hospital in McLeansboro.
Lena was born January 11, 1928 in Franklin County, IL to Oscar and Venita Gaither.  She married Paul "Bub" Ingram on June 23, 1944, and he preceded her in death in November 2017.
Lena had many jobs during her lifetime.  She was a homemaker raising 8 children and also worked at Elder's Shirt Manufacturing Company until the closure, then at the McLeansboro Dress Factory until the closure, and her last job was at the Enfield Bra Factory until the time of her retirement.  Lena enjoyed sewing, crocheting, gardening, and spent lots of time horseback riding with her husband and many friends.  She was protestant by faith and attended Pleasant Union Congregational Christian Church in McLeansboro.
Lena is survived by 2 daughters: Patsy (Carroll) Millenbine, and Connie (Gary) McMahon, both of McLeansboro; 4 sons: Jack (Donna) Ingram, Darrell (Terry) Ingram, both of McLeansboro, Franklin (Linda) Ingram of Freelandville, IN, and Benny Ingram of Tuscon, AZ; 2 daughters-in-law: Brenda Ingram of Carmi, IL and Pam (Earl) Neff of McLeansboro.  She is also survived by one sister Betty Cowgill of Cincinnati, OH, 23 grandchildren, 38 great grandchildren, several great-great grandchildren, and several nieces and nephews.
She was preceded in death by her parents, husband Paul "Bub" Ingram, 2 sons Rick Ingram and Carl Ingram, 4 sisters: Dora Mae, Madge, Nina and Loretta, and 2 grandsons: Nathan Ingram and Benjamin Ingram.
Funeral services for Lena Faye Ingram will be held Thursday, February 10, 2022 at 1:00 p.m. with Pastor Larry Woodrow officiating at Gholson Funeral Home in McLeansboro.  Visitation will be held from 11:00 a.m. until the time of service at 1:00 p.m. at the funeral home.  Interment will follow at Old Springer Cemetery near Blairsville, IL.  Memorial donations may be made to Pleasant Union Congregational Christian Church and will be accepted at Gholson Funeral Home in McLeansboro.  Online condolences and expressions of sympathy may be shared at 
www.gholsonfuneralhome.com