Joseph A. Mayberry Sr.
Benton, IL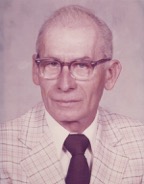 1926-2020
Joseph A. Mayberry Sr., 94, a resident of Benton, Illinois and formerly of McLeansboro, passed away Thursday, August 20, 2020 at Franklin Hospital in Benton, IL.
He was born July 17, 1926 in McLeansboro, IL, to Alvin Mark and Helen Josephine (Sanicki) Mayberry.  Joseph was a United States Navy Veteran having served during World War II.  He was a retired plumber and pipefitter and was a member of Plumbers and Pipefitters Local #551 of West Frankfort, IL.  Joseph was also a member of St. John the Baptist Catholic Church in Piopolis, IL.
Joseph is survived by three sons: Joseph and wife Julia Mayberry of Logan, IL, Anthony and wife Sue Mayberry of Martinez, GA and James Mayberry of Augusta, GA; three daughters: Donna and husband Joe Roberts of Raleigh, IL, Judith and husband Bill Ford of Evansville, IN and Rhonda McKenzie of McLeansboro, IL; and daughter-in-law, Terry Mayberry of McLeansboro, IL.  Seventeen grandchildren, fifty great grandchildren and two great-great grandchildren also survive.
He was preceded in death by his parents. wife Shirley Mayberry, one son David Mayberry, one daughter Teresa Taylor, two brothers: Frank and Edward Mayberry; and two sisters: Dorothy Dill and Delores Lee.
A Funeral Mass will be held Monday, August 24, 2020 at 1:00 p.m. at the Chapel of St. Clements Catholic Church in McLeansboro with Fr. Slawomir Ptak conducting the mass.  Visitation will be held Monday, August 24 from 12:00 p.m. until the time of service at the Gholson Funeral Home in McLeansboro.  He will be laid to rest at St. Clements Catholic Cemetery in McLeansboro with Graveside Military Honors performed by American Legion Post 106 and a Navy Honors Team.
The Gholson Funeral Home of McLeansboro is in charge of arrangements.