John Aaron DuSablon
Sikeston, MO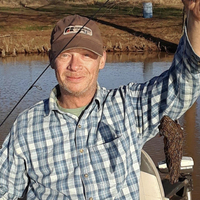 1969-2021
On 10 September 2021, John Aaron DuSablon, 52, of Sikeston, MO, passed away at his home.
John was the second son born to Arthur B. and Beatrice DuSablon on 27 June 1969 in St. Louis, MO. While John attended Carmi White County High School in Carmi, IL for his first couple of years of high school, he graduated from Malden High School in Malden, MO. He went on to become a United States Army veteran who served our country proudly in the Gulf War, and he always had a great love for America.
While John enjoyed many sporting events, he was especially fond of going to dirt and drag races with family and friends, and he liked fishing and the outdoors. John also relished in collecting rare antique pipes.
Some of John's favorite moments of late were spent with family around the living room during the Christmas season. There is no doubt that John cherished these last visits with his dad, and playing games in the floor with his nieces and nephew always put a smile on his face.
John is survived by his father, Arthur B. (Sue) DuSablon; brother, Mathew (Vanessa) DuSablon; nieces and nephew, Sophia, Bianca, Caroline, and Arthur J. "AJ" DuSablon; uncles, Paul DuSablon and Jerry Davis; aunt, Yvonne (Leslie) Mitkos; and cousin, Kimberly (Brian)
Dickinson.
John was preceded in death by brother, Arthur B. DuSablon, Jr.; mother, Beatrice Davis; aunts, Dorothy Sliger, Martha Davis, and Rachelle DuSablon Ali; uncles, Jimmy Davis and Fred
Sliger; and grandparents, Harold (Naomi) Davis and Paul (Virginia) DuSablon.
Visitation will be Saturday, 25 September 2021, at Concordia Lutheran Church, Sikeston, MO, from 12:00 p.m until 2:00 p.m. with a Memorial Service immediately following at 2:00 p.m.
In lieu of flowers, memorials may be made to Concordia Lutheran Church (in  the memo please note for "Addiction Center")
McMikle Funeral Home of Sikeston is in charge of arrangements.