Jerry Wayne Ricketts
Royalton, IL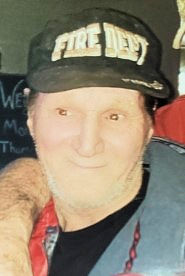 1961-2023
Jerry Wayne Ricketts, 61, passed away Monday, January 2, 2023 at his home in Royalton, IL.
He was born in Wyatt, Missouri on February 14, 1961 to James Marvin and Laura (Nose) Ricketts.
Jerry worked as a farmhand at Grammar's Orchard near Carbondale until 2005.  He enjoyed working, landscaping, drinking beer, mowing yards and visiting with friends and family.  He was a good man and will be greatly missed by his family and friends.
He is survived by his two children: daughter Laura Ricketts and son Jerry Ricketts Jr.; two sisters: Mary Jones and Joanne (Hector) Canio, both of Murphysboro, IL; six brothers: James J. Ricketts, Donald Ricketts and Jimmy Ricketts, all of Murphysboro, IL, Michael Ricketts of West Frankfort, IL, Leon (Telia) Ricketts of Carbonadale, IL and Terry Ricketts of Cape Girardeau, MO; niece and nephew Lisa and Johnny Jackson of Royalton, IL and cousins Robert and Jeanie Staggs.  One grandson, several other nieces and nephews and great nieces and great nephews also survive.
Jerry was preceded in death by his parents, two brothers: Claudie and Frankie Ricketts; and three sisters: Norma Jean Weeks, Geneva Ricketts and Judy Ricketts.
No formal services are to be held at this time.  Online condolences and expressions of sympathy may be shared at www.gholsonfuneralhome.com
Funeral