James Richard (Jamie) Youngman, Jr.
Carmi, IL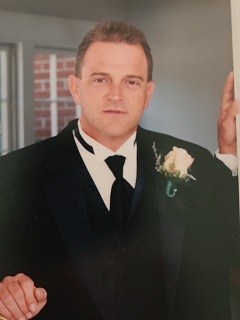 1965 - 2021
James Richard (Jamie) Youngman Jr., 56, of Carmi, passed away on Monday, September 20, 2021. He was born on February 25, 1965, the son of James Richard and Wanda (Churchwell)Holland Youngman. Jamie worked for DirecTV and then later worked as a coal miner in White and Hamilton County and Marissa. He enjoyed playing golf, boating and horseback riding. Jamie loved spending time with his nieces and nephews. He also enjoyed camping and fishing.
Jamie is survived by his siblings, Steven (Lorna) Seibers of Carmi, IL., Barbara South of Texas, Lynn Warner of Evansville, IN., and Angie Bartley of Carmi, IL; nieces and nephews, Paul (Michelle) Stanley, Jasmine (Alex) Hetzel, Chris (Maranda) Seibers, Cody Tatom, Sunshine Bunting, Natasha (Derek) Stickel, Scott Warner, Hannah Marshall, Joshua South, Ian Bartley and Dakota Bartley.
Funeral Services for Jamie Youngman, will be held at 11:00 a.m. on Tuesday, September 28, 2021, at Stendeback Funeral Home in Carmi.  Family and friends may visit from 9:00 a.m. until time of service at Stendeback Funeral Home in Carmi. Stendeback funeral Home in Carmi is in charge of arrangements