Inez G. Williams
Carmi, IL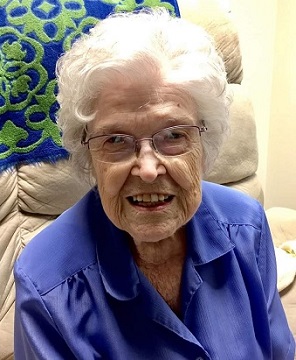 1920-2022
Inez G. Williams passed away peacefully, surrounded by loved ones at Carmi Manor Rehabilitation and Nursing on April 23, 2022. She was 102 years old. Inez Gaines Williams was born on February 15, 1920 to Norbert L. Gaines and Freda (Botsch-Gaines) Bramlet. Inez graduated from Carmi High School in 1938. She married Charles E. Williams on June 10, 1942 and they were married 61 years until Charles preceded her in death in August of 2003. During her lifetime, she enjoyed playing piano, playing Bridge, dancing, reading and golfing. Inez also belonged to the Xi Omicron Chapter of Beta Sigma Phi Sorority. Inez began her working career with the Wabash Valley Abstract Company the day after her
graduation from high school in 1938. During World War II she worked for Chrysler, printing ammunition labels for the war, and Ashland Oil and Refining in Evansville. Other places of employment were Humble Oil and Refining and Julia's Suburban Dress Shop that she opened in Carmi with co-owner Donna Mitchell in 1962. Moving back to Evansville, Inez was employed by Barger Engineering as an executive secretary for 17 years until her retirement and their return to Carmi.
Inez was preceded in death by her parents, her husband Charles E. Williams, and several Aunts, Uncles and cousins. She is survived by one cousin Roscoe Templeton of Carmi, his family and the families of LaNell (Templeton) McKinney, Lela (Templeton) Meriwether, Verla (Botsch) Holden, Emerson Botsch, Dorothy (Nibling) Matz, Verla (Nibling) Gunnels, Ervin Nibling, Dale Nibling, Ilene (Botsch) Bandle, Byrd (Botsch) Kamereth, Beth Botsch, Kelly Botsch, Dallas Botsch and very special friends Jonathan and Stacy Lucas and children of Carmi, who Inez also considered her family.
Funeral services for Inez Williams, will be held at 1:00 p.m. on Saturday, April 30, 2022, at Campbell Funeral Home in Carmi, with burial at St. John's Cemetery in Carmi.  Family and friends may visit from 11:00 a.m. until time of service on Saturday, at Campbell Funeral Home in Carmi.  In lieu of flowers, contributions can be made in Inez's memory to the Carmi Lions Club or to Carmi Manor and will be accepted at Campbell Funeral Home in Carmi, who is in charge of arrangements.