Holly Mae Stanley
formerly of Carmi, IL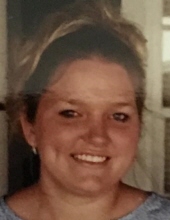 1980 - 2020
Holly Mae Stanley, 40 years of age, passed away on Monday, July 27, 2020.
Holly was born on July 12, 1980 in Alton, Illinois. Mark and Rebecca E. Stanley, along with Matthew and Brenton Stanley, welcomed Holly into their lives and family on August 16, 1988.
Holly was a kind and loving daughter and sister who always enjoyed spending time with her extended family and friends. While growing up Holly loved playing softball, boating, water skiing, camping, participating on swim team and school band.
Holly graduated from Carmi White County Highschool in 1998. She subsequently attended Southeastern Illinois College and John A. Logan College. Holly resided in Carbondale, IL at the time of her death.
Holly is survived by her parents, Mark and Rebecca Stanley, of Carmi; children, Caleb, Miles and Wyatt; brothers, Matthew (Emily) Stanley of Albany, GA and Brenton (Molly) Stanley of Louisville, KY; grandparents, Janice Frashier of Carmi, IL and Rebecca Rice Stanley of New Harmony, IN; nieces, Winnifred and Ruby and many aunts, uncles, and cousins.
Memorial services will be held with family at a later date.
The family request that any memorial contributions be made to CASA (Court Appointed Special Advocate) of Franklin County IL, 903 West Washington St. #5, Benton, IL, 62812.
Meredith Funeral Home in Carbondale is assisting with arrangements.