Elmer Ray "Pete" Mitchell
Brownsville, TX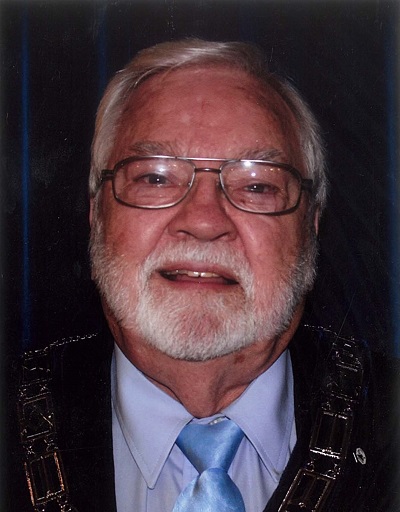 1934-2021
Elmer Ray "Pete" Mitchell, 87 of Brownsville, TX passed away at his home on Veteran's Day Thursday, November 11, 2021.  Pete was born September 29, 1934 in Kilgore, TX to Rufus A. and Hazel Lane Mitchell.  He was united in marriage to Maria J. Mitchell on September 15, 1989 and they shared 31 wonderful years together.
Born in Texas and raised between Southern Illinois and the family farm in Annona Texas, Pete was proud of his roots.  He was intelligent, articulate and sophisticated.  His intellect afforded him the opportunity to graduate Annona High School early at age 15.   Pete then attended Bradley University in Peoria, IL until his fun-loving personality interfered with his grades.  Rufus pulled him out of the University (no doubt by the ear) which led Pete to enlist in the United States Navy in February 1953.  Pete completed his degree work at Naval Postgraduate School in Monterey, CA in 1970.
Pete was a career Naval officer and served 24 years of honorable, faithful and dedicated service to the United States of America in the US Navy.  Always a hard worker and dedicated to his craft, he advanced through every rank in the Navy which was very unusual.  He advanced from Seaman Recruit through every rank to Lieutenant. Pete's Naval career allowed him to see the world.  He served in the Korean and Vietnam Wars. Pete was part of a rescue mission in Hanoi, North Vietnam.  He served on USS MT MCKINLEY, USS FORREST SHERMAN, USS GREENWOOD, USS SARATOGA and USS BLUE RIDGE. He retired from the US Navy May 1, 1977.
Pete was a Freemason alongside many of the Mitchell's including his Father Rufus. Pete's Masonic journey began in Brownsville, TX at Rio Grande Lodge No. 81, where he completed the three degrees in Masonry becoming a Master Mason on January 15, 2002.
During his nearly 20-year Masonic service, Pete served as Worshipful Master of several Lodges including his home Lodge Rio Grande No. 81, thus becoming a member of the Grand Lodge of Texas Masons, where he continued his support of the craft through mentoring, volunteering, and District Deputy Grand Master service in 2010-2011. He also enjoyed being a member of the masonic appendant bodies Scottish Rite and Knights Templar, where he was well respected and achieved many awards.
Pete and his son Kyle, also a member of the Grand Lodge of Texas Masons enjoyed countless hours of each other's company as they traveled together attending Tranquility Lodge No. 2000 meetings throughout the state of Texas and beyond, traveling as far as Huntsville, AL in support of Tranquility Lodge, where they both went on to preside over as Worshipful Master. (Pete 2016-2017, Kyle 2018-2019).
Their annual attendance at Grand Lodge was always a special occasion, Pete and Kyle always looked forward each year as not only an occasion to be together, but as a continuation of their devotion to the Craft, in governing of the Lodges in the great state of Texas. Pete was a good man, made better by the fraternity, who will be missed by his fraternal brothers. His indelible mark on the Craft will never be lost. "So mote it be Brother Pete."  He was also a life member of the VFW post 3851 in Carmi, IL.
Pete was a brilliant and talented craftsman who enjoyed reupholstering furniture and restoring antique pieces over the years.  He was an eloquent speaker and writer and the family's favorite storyteller.  He had an uncanny ability to recall facts and dates and tell details of stories to match.  His intelligence and candor paired with a firm gentleness captivated all who knew and loved him.
Pete was preceded in death by his parents, Rufus and Hazel Mitchell; brother Louis Lane Mitchell; toddler sister Margaret Lee Mitchell; and brother-in-law Bill Edwin Davis.  He is survived by his loving wife, Maria Mitchell of Brownsville, TX.  Sons, Mark Steven (Brenda) Mitchell of Midland, TX; Kevin Brandt Mitchell of Midland, TX; Kyle Ray (Cindy) Mitchell of San Antonio, TX; Brother Dale Bryant (T.J.) Mitchell of Somerset, KY; sister, Nancy Mitchell Davis of League City, TX; He was an adoring grandfather to his 15 surviving grandchildren: Rhiannon, Laura, Mark Jr., Joshua, Sarah, Renae, Becky, Christie, Trevor, Coral, Michelle, Shawn, Tracie, Michael and Brianna. Pete's family blessed him with numerous great grandchildren and recently, great-great grandchildren; special niece, T.J. (Doug) Ackerman of Carmi, IL, numerous loving in-laws in Mexico and several nieces and nephews who he loved as his own.
Funeral Services for Elmer Ray "Pete" Mitchell will be held at 10:45 a.m. Friday, December 10, 2021 at Fort Sam Houston National Cemetery Shelter No. 5 in San Antonio, TX.  Memorial Contributions may be made to Wounded Warriors or the donor's choice.