Elaine Ballard
McLeansboro, IL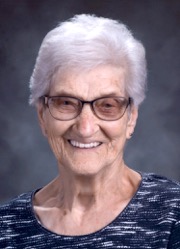 1931-2021
Elaine Ballard, 90, passed away Friday, October 22, 2021, with her family by her side, at her home in McLeansboro, Illinois.
Elaine was born September 16, 1931 in McLeansboro, IL to Elmo and Sarah (Taylor) Weaver.  She married Edgar L. Ballard on December 27, 1947 and he preceded her in death. Elaine had many jobs during her lifetime. She was a home maker and helped her father with farming. She also worked as a clerk for the Hamilton County Treasurer's office for over ten years, and she later was employed at Addus Home Health In-Home Health Care in Mt. Carmel.  Elaine also volunteered as a Senior Reader at East Side Grade School. She was a former member of the American Legion Auxiliary in Springerton and was a member of the Pleasant Union Congregational Church in Blairsville. Elaine was a avid reader who enjoyed puzzles, quilting, needle work, traveling, spending time with her family and babysitting her grandkids.

Elaine is survived by three daughters: Donna (David) Brake of Dahlgren, Juanita (companion Gary Moles) Wellen of Dahlgren and Starr (Paul) Wilhelm of Camargo, IL; four grandsons, two granddaughters, two step-grandsons, ten great granddaughters, three step-great granddaughters, four great grandsons, one step-great grandson, one great-great grandson and one great-great granddaughter; and one brother Harl Weaver.  Five sister-in-laws, one brother-in-law and several nieces and nephews also survive.
She was preceded in death by her parents, husband Edgar Ballard; one brother and two sisters.
Funeral services for Elaine Ballard will be held Monday, October 25, 2021 at 11:00 a.m. at the Gholson Funeral Home in McLeansboro with Pastors Robert Abbott and Jay Vineyard officiating.  Visitation will be held Monday, October 25 from 9:00 a.m. to 11:00 a.m. at the Gholson Funeral Home in McLeansboro. She will be laid to rest at Old Springer Cemetery near Blairsville. Memorial donations may be made to SSM Hospice or Pleasant Union Congregational Church and will be accepted at the Gholson Funeral Home.
The Gholson Funeral Home of McLeansboro has been entrusted with arrangements.