E. Rose (Shoaf) Beck
Grayville, IL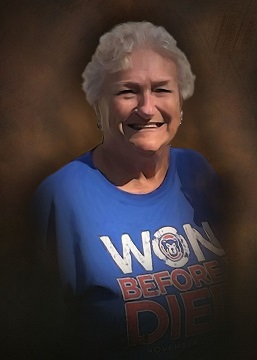 1942-2022
E. Rose (Shoaf) Beck, 92, of Grayville, Illinois, died Thursday, January 13, 2022, at her home. She was born August 21, 1942, in Oatsville, Indiana, to Ira and Dorothy (Dooley) Shoaf.
In 1969, she moved to LaPorte, Indiana, where she soon began employment at Whirlpool Parts Distribution.  She also began her life-long dedication to the United Auto Workers Union and her undying loyalty to the Chicago Baseball Cubs and Notre Dame Basketball.
While at Whirlpool, she served as union steward, served on the Union By-Laws Committee, and brought fire, determination, and commitment to the arbitration table and bargaining tables.  She was well-known throughout the company and made many friends.  Rose was always quick to play a prank, tell a joke, and stir the pot all in fun.
Whirlpool is also where she met her Sister-in-Heart, Her Palsy, her very dearest friend, Marian Ross, who was sweet enough to share her sisters and family with Rose.
Rose will be most fondly remembered by her children, grandchildren, and great-grandchildren as the Granny who wasn't an ordinary Granny, the one who would be their partner-in-crime, the one the kids would give that look like "Is she teasing? Serious? Or just nuts?" Rose always took the time to let every single kid know they were her one and only favorite. She would sing to them until they (Toni) would plea for her to stop.
She was the "Crazy Dog Lady" who could find the best-behaved dog and manage to love him stupid!
More often than not, she could convince people to do the most outrageous, sometimes illegal, things by proudly stating "Don't nobody know us!"
Very few people ever knew her given at birth first name.  For many decades, she went by E. Rose and she would not divulge it.  Her daughter threatened to divulge the secret on her headstone (which may be why she chose to be cremated!)
Rose is survived by sons Tim (Debra) Ellis of Princeton, Indiana, Tony (Jessica) Ellis of Conroe, Texas, daughter Tricia (Curt) Harms of Grayville; stepdaughter Angie (Roy) Searing of Trenton, Tennessee; step son Neil (Tracy) Beck of LaPorte; 21 grandchildren; 23 great-grandchildren, with one more on the way.
In keeping with Rose's wishes, her remains were cremated.  Her family will host a celebration of life at a later date when weather is more pleasant.
Cook Funeral Chapel in Grayville is honored to assist the family of Rose Beck.
Funeral