Dwain V. Sheckles
Carmi, IL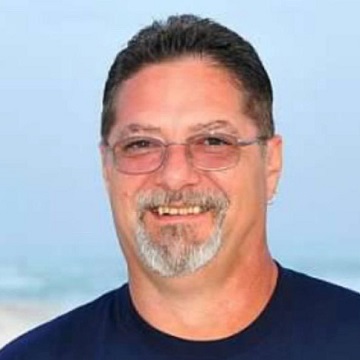 1962-2021
Dwain V. Sheckles, 59, of Carmi, Illinois, died September 15, 2021, at Deaconess Gateway Hospital in Newburgh, Indiana.  He was born August 22, 1962, in Carmi, the son of James Vincent Sheckles and Reta Joyce (Jacobs) Sheckles.  He was married to Rebecca Ann (Grein) Sheckles on August 23, 2002, and she survives.
Dwain was a coal miner for 32 years.  Later, he worked part-time for the City of Carmi. For a time, he served as an Emergency Medical Technician.  He was a "Mr. Fixit" and enjoyed tinkering with about anything and if he couldn't fix it, it simply could not be fixed.  He enjoyed woodworking, spending time at Glen O. Jones lake, and being a "grill master". His family was what he cherished the most.  He attended Zion United Methodist Church.
Survivors include father James Sheckles of Crossville, Illinois; mother Reta Mitchell of Harrisburg, Illinois; wife Rebecca Sheckles of Carmi; daughters Jennifer (Jason) Brown of Lexington, Kentucky, Rachael (Jeremy) Gorman of Clarksville, Tennessee, Mary (Bobby) Grogan of Carmi; brother Tod Sheckles of Harrisburg; sisters Thea Shaw and Fain Sheckles, both of Harrisburg; grandchildren Jacob, Aaron, Dylan, Lacie, Wyatt, Mackenzie, Cadence, Henry, Hannah, and Jackson; nephews Matthew (Kelley) Shaw, Tristen Bolin; niece Christina Shaw; and his beloved dog and best buddy, Tinker Bell Blue.
He is preceded in death by grandparents Lawetta and David Jacobs and Ella and Vestie "Heavy" Sheckles.
Visitation and funeral are Saturday, September 18, 2021, at Cook Funeral Chapel in Carmi.  Visitation is 11 am to 2 pm.  Funeral will follow visitation at 2 pm.  Burial will be in Phillipstown Cemetery in Phillipstown, Illinois.
Memorials may be made to Lucky Dog Refuge and will be accepted at Cook Funeral Chapel.
Cook Funeral Chapel in Carmi is in charge of arrangements.