Dean B. Savage
Belle Rive, IL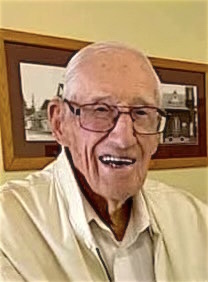 1926-2021
Dean B. Savage, 95, of Belle Rive, Illinois, passed away November 9, 2021.
He was born in rural Belle Rive, Illinois on May 10, 1926, the son of Frank and Marie (Dale) Savage.
He married Florine E. McNair on March 8, 1947 with whom he celebrated 67 years of marriage.  To this union, two children were born, Rosalie Lynn (Savage) Skaggs and Russell Dean Savage.
Dean was a farmer by trade, working as a partner with his brother Dale.  After retirement, he went into wood-working, making clocks, furniture, toys, replica tractors, knives and much more.
Dean was a member of the Dahlgren Missionary Baptist Church and was saved November 25, 1938, and had been very active in the church since that time.  He served as Deacon since 1968, Trustee, Song Leader, Sunday School Teacher and a willing volunteer for any work to be done on the church.
He served in the Navy from August 1, 1944 to July 9, 1946 aboard the LSMR (Rocket) 505.
He is survived by his children, Rosalie "Lynn" (Nicholas II) Skaggs and Russell (Brenda) Savage of Belle Rive; four grandchildren: James and Jason Savage, Jessica (Savage) Conrad and Nicholas Skaggs III, three step-grandchildren: Mandi (Skaggs) Harlow and Travis and Jesse Ackley; four great grandchildren: Bailey, Ava, Gage Ryder and Molly; and three step-great grandchildren: Sebastian, Isabelle and Allie.  Several nieces and nephews also survive.
Preceding him in death were his grandparents Hiram and Agnes (Tennyson) Dale; parents Frank and Marie Savage; wife Florine Savage; eight brothers and sisters: Lowell, Everett, Ralph, Edna, Ina, Dale, Owen and infant sister June; and numerous aunts, uncles and cousins.
Funeral services will be held Friday, November 12, 2021 at 10 a.m. at the Gholson Funeral Home in Dahlgren with Pastor Brad Sloan officiating.  Visitation will be held Thursday, November 11, 2021 from 6 to 8 p.m. at the Gholson Funeral Home in Dahlgren.  He will be laid to rest at IOOF Cemetery in Dahlgren. Memorials may be made to the Dahlgren Missionary Baptist Church and will be accepted at the Gholson Funeral Home in Dahlgren.
The Gholson Funeral Home of Dahlgren has been entrusted with arrangements.