Dale Robert Singleton
Robinson, IL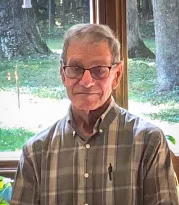 1942-2022
Dale Robert Singleton, 80, of rural Robinson, IL, passed away on Oct. 28, 2022, at his home. He was born on Oct. 12, 1942, in Johnsonville, IL to Robert & Mabel (Tway) Singleton. After graduating from Norris City High School in 1959 at the age of 16, he earned a degree in mechanical engineering from the University of Illinois while taking advanced ROTC training.
Following work at Union Carbide for a short time, he answered his country's call through service in the U.S. Army as a First Lieutenant and in the Corps of Engineers (Bravo Company, 62nd Engineer Battalion). For his outstanding meritorious service in connection with ground operations against a hostile force in the Republic of Vietnam, Dale was presented with two Bronze Stars, among several other medals.
Following honorable discharge in 1968, Dale worked as a mechanical engineer at Marathon. Over the next 25 years, he worked on and managed many construction projects at the refinery. While working full-time, he earned an MBA from Indiana State University. He was a registered professional engineer.
Never one to let dust settle, he kept busy around the house and in the peace and tranquility of the surrounding woods. An avid woodworker, he built many tables, shelves, desks and bedroom sets with lumber he had cut, kiln dried, and planed. In doing so, he provided his family with heirlooms they will cherish for years to come.
His family will remember him as a loving yet disciplined man and as a good provider for his family. Though quiet by nature, when Dale did speak, his words carried weight. He lived, and encouraged his family to live, by two phrases: "You can accomplish anything you want to do," and "Leave things better than you found them."
He married Floy "Beth" Allen in 1964, and she survives. He is also survived by his son, Alan Singleton (Mahomet, IL); his daughter & son-in-law, Kendra & Paul Jones (Robinson, IL); his grandchildren, Stephen Jones, Benjamin Jones, Eli Jones, Heather Singleton, Jacob Singleton, Anna Jones, and Melissa Singleton; his sisters & brother-in-law, Ellen & Tom Vandiver and Judy Downen; his sister-in-law, Pat Anderson; his brother-in-law & sister-in-law, Don & Dinah Allen; as well as many extended family members.
He was preceded in death by his parents, Robert & Mabel Singleton; his parents-in-law, Floyd & Frances Allen; his sister-in-law & brother-in-law, Joyce & Ron Adams; and his brothers-in-law, Ron Downen and Larry Anderson.
Private family services were held at the Kirk Cemetery in rural Robinson, IL. In lieu of flowers, Dale's family requests donations be made to the "VFW Transportation Fund." Or, in honor of his love of the forest, you are encouraged to plant a tree in his name. The Goodwine Funeral Home in Robinson is in charge of arrangements. For more information, or to share a memory or condolence online, please visit www.goodwinefuneralhomes.com.