Carol Sue (Lindsey) Campbell
McLeansboro, IL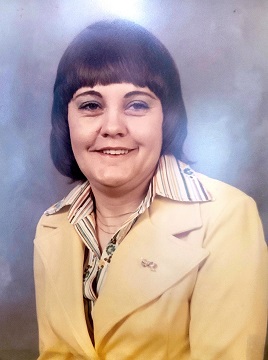 1942
Carol Sue (Lindsey) Campbell, 79, of McLeansboro, IL passed away on Thursday, August 25, 2022 at Hamilton Memorial Nursing and Rehabilitation Center in McLeansboro.
Carol was born October 20, 1942 in Murphysboro, IL the daughter of Harry & Anna (Robinson) Lindsey.  On July 16, 1972 she married Charles William Campbell, who preceded her in death.  Carol worked as a cook at several restaurants and was a housekeeper at Hamilton Memorial Nursing & Rehabilitation Center for several years.  She was a member of Mt. Olivet General Baptist Church in McLeansboro.  She loved sewing and cooking, and she was an avid reader of Danielle Steel books.  She enjoyed spending time with her family.
Carol is survived by 2 daughters: Margaret Smith of McLeansboro and Cynthia Lynn (Troy) Penny of Wakeman, OH; a son Charles Michael "Mike" Campbell of McLeansboro, 4 grandchildren: Jessica (P.J.) Allgood of Lorain, OH; Anthony (Andrea) DeLorenzo of Ft. Wayne, IN; Angela Marie DeLorenzo (and Nick Mason) of Lorain, OH and Seth Andrew Campbell of Fairfield, IL; 6 great grandchildren: Amani Taylor, Aston Allgood, Amyah Allgood, Jayden DeLorenzo, Anthony DeLorenzo Jr. and Jacqueline Raye DeLorenzo; 2 brothers: Robert (Sandra) Lindsey of Eldorado, IL and Ernest "Ernie" VanGulider of Granite City, IL; a sister Doris Lindsey of Glen Carbon, IL; and several nieces, nephews, and cousins.
She was preceded in death by her parents Harry & Anna Lindsey, husband Charles William Campbell, 2 brothers: Paul William Lindsey and Sylvester Lindsey, and 4 sisters: Dorothy Lindsey, Harriet Hull, Marion Arnold, and Ernestine "Tina" Key.
Funeral services for Carol Sue Campbell will be held at 2:00 pm on Sunday, August 28, 2022 at Gholson Funeral Home in McLeansboro with Pastor Jacob Gray officiating.  Visitation will be held Sunday prior to the funeral services from 11:00 am until 2:00 pm.  Interment will follow the funeral services at I.O.O.F. Cemetery in McLeansboro.  In lieu of flowers, memorial donations may be made to the American Heart Association, and will be accepted at Gholson Funeral Home in McLeansboro.  Online condolences may be made at www.gholsonfuneralhome.com