Carol Ann Jackson
Marion, IL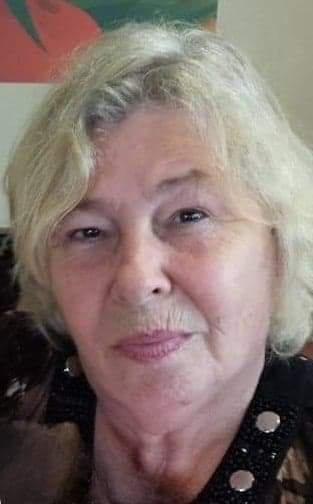 1944-2022
Carol Ann Jackson, 77, of Marion, IL and formerly of McLeansboro, IL passed away on Friday, July 07, 2022, at 11:53 pm at Linda E. White Hospice House in Evansville, IN.
Mrs. Jackson was born on November 23,1944 in Morocco, IN, the daughter of Wilbur H. and Dorothea A. (Potts) Lade and they preceded her in death in addition to her husband who she was married to for 43 years, L. B. Jackson; her son, Larry L. Jackson; her three brothers, Dennis E. Lade, Dale W. Lade and Lee Roy Lade; her sister, Mary J. Hull; her sisters-in-law, Glenda Hull and Elaine Lade; her son-in-law, Don Hartley; grandson, Larry L. Jackson Jr. and great-granddaughters, Isabela Castillo and Abbigail N. Jackson.
Mrs. Jackson was employed as a cook on the Mississippi River boat barge, Allen Waste in Mt. Vernon, IL and babysat for many years.
Mrs. Jackson is survived by seven children, Patty Evrard and husband Myron of Marion, IL, Dorothy Woolard and husband Stephen of Marion, IL, Betty Hartley of Eldorado, IL, Janie Douglas and husband Gary of Eldorado, IL, Jim Jackson and wife Erin of Orlando, FL, L.B. Jackson Jr. and wife Angel of Mt. Vernon, IN, and Johnny Jackson and wife Lisa of Murphysboro, IL; brothers and sisters, Danny Lade and wife Linda of Branson, MI, Terry Lade and wife Wanda of Cedar Park, TX, and Karen Lade of Donovan, IL; 28 grandchildren and 45 great-grandchildren.
Visitation will be held from 11:00 am until 1:00 pm on Tuesday, July 12, 2022 with funeral immediately following at 1:00 pm at Gholson Funeral Home in McLeansboro, IL. Interment will follow the funeral service at Rose Hill Cemetery in Marion, IL. In lieu of flowers, memorial donations may be made to assist with final expenses and may be made in Carole's memory to the care of Patty Evrard. Online condolences and expressions of sympathy may be shared at www.gholsonfuneralhome.com