Bill Edwin Davis
League City, TX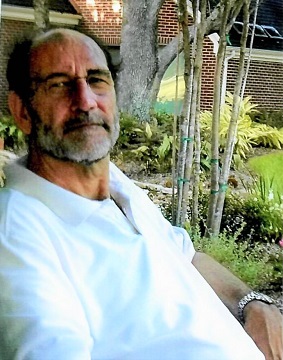 1947-2021
Bill Edwin Davis, 74, of League City, Texas passed away on August ~6, 2021 in his home surrounded by his
immediate family. Bill was born July 18, 1947 to Alva C. and Marjorie Wilson Davis. His stately, lean, 6'5" body and a face framed with glasses and a full beard coalesced into a valid image of strength and gravitas. He was by anystandard an imposing, much loved gentleman, lawyer, husband and friend.
Bill spent his early childhood in Fairfield, Illinois and attended Fairfield Community High School. During this time,
Bill developed his natural athleticism and his love of cars, music, hunting, fishing, golfing, and basketball. Bill earned
a bachelor's degree at Murray State University in Murray, Kentucky, enjoying the small college experience and the
brotherhood of Sigma Chi social fraternity, and the time spent at the family cabins on Kentucky Lake/Lake Barkley.
Professionally, Bill was a lawyer and considered himself a Texan; however, he never forgot his roots or his love for
Southern Illinois and Kentucky. After receiving his law degree from South Texas College of Law in Houston, Texas,
and becoming a member of the Texas State Bar, Bill entered over forty years of private practice in multiple levels of
state and federal courts, where he steadfastly and with high ethical standards represented some of the most
influential people in the world in international and business law. His work ethic, joined with intelligence, loyalty,
integrity, exceptional analytical ability and admirable ethical standards drew clients from many nations. He won and
lost many intellectually complex and hard fought battles against some of the most prestigious lawyers and biggest
law firms in the United States. Bill's wife, family, clients and those who worked with him and knew him best,
acknowledged the enormous, behind the scenes impact he made on the present and future global economy and
business transactions. He loved to read the daily newspapers. He frequently said, "If you read the news and business
sections of multiple newspapers, the world will tell you what is going on behind the scenes." He had an uncanny
grasp of what was going on behind the scenes throughout the world. He was surrounded by his extensive and
impressive personal library. The creased spines of each demonstrated that they were extensively and repeatedly
read. Bill was taught the value of hard manual labor working for his father and others in the oil fields of Southern
Illinois where he learned that although he loved his father's oil business, he was drawn to business and international
law.
Bill was a Freemason all of his adult life. His masonic journey began at Holland Lodge No.1 in Houston, Texas. He
followed this with becoming a 32nd degree Scottish Rite Mason followed by becoming a Shriner, all in the mid to
late 1970's. In subsequent years, Bill became a member of Point Isabel Lodge No. 33 and Tranquility Lodge No.
2000.
Bill loved his family and was most comfortable at home. He was generous with his time, often using his superior
legal talent as the "on call" lawyer for family and friends and he willingly helped any who called. Bill was thankful
and never forgot when he received help from others. He was particularly thankful of his loving and caring wife and
true partner, Nancy, and for her great help to him, personally and professionally. Bill and Nancy loved to open their
home on the golf course to friends, neighbors, business associates, law partners, and family members where he
would tell "war stories", grill steaks, and listen to his wide and diversified musical collection ranging from Michael W.
Smith to Van Morrison to Willie Nelson. One of his favorite escapes in the evening was to drive around Houston's
610 Loop in his convertible while listening to his music.
Bill accepted and believed in Jesus Christ as his personal Savior. Bill had his imperfections, but he was forgiving of
the imperfections in others. Bill was a member of Abundant Life Christian Center in La Marque Texas. Near the end
of his life, even as he struggled with his pain, Bill could be heard quietly praying. His faith in God was evident and
personal. Ephesians 2: 8-10
Bill was preceded in death by his parents, Alva C. Davis and Marjorie Davis. He is survived by his beloved wife, Nancy Mitchell Davis, daughter, Tomi Joyce Ackerman (Doug), twin granddaughters, Maggiann and Gracilou Ackerman of Carmi, Illinois, two sisters, Gwendolyn Kontnik (John) of Denver, Colorado, and Katherine Sherman of
Las Vegas, Nevada. He is also survived by loving in-laws, nieces, nephews and a host of long-time friends.
Private burial was at White County Memorial Garden, Carmi, Illinois.