A. Annette Gholson Webb
McLeansboro, IL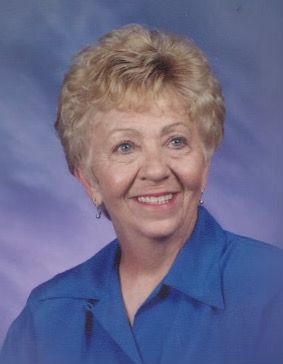 1937 - 2021
Age:   83 years of age and a resident of McLeansboro, IL
Passed Away at  5:20 P.M., Saturday, January 2, 2021 at Hamilton Memorial Hospital, McLeansboro, IL.
A Private Family Visitation was held 11:00 A.M. to 12:00 Noon, Wednesday, January 6, 2021 at which time a Funeral Service was held at Harre Funeral Home,  McLeansboro, IL.  Reverend Gary Davenport officiated the services.  Burial followed in Blooming Grove Cemetery, McLeansboro, IL
Annette was born October 12, 1937 in McLeansboro, IL to John Randel and Georgia Ann (Pearce) Gholson.
Annette graduated from Southern Illinois University in 1970 and was employed for many years by Hamilton County Unit 10 as a teacher until her retirement in 1994.  During her teaching career, she touched many lives by teaching 6 th grade at East Side Grade School and English & Social Studies at the Junior High.
Annette was active in the Illinois Retired Teachers Association (IRTA) as well as the Hamilton County Retired Teachers Association (HRTA). Throughout the years she served these associations in many capacities and was honored by the IRTA with the Distinguished Member Award for many years of dedication to both organizations.
In addition, Annette also served her community as a member of the McCoy Memorial Library Board & Summer Reading Program Coordinator.  She served on the Jefferson-Hamilton Comprehensive Services Board & the WADI Policy Council.
She was a member of Blooming Grove Missionary Baptist Church where she had served as Sunday School Teacher & was active with their Bible School Program. Perhaps her greatest and most rewarding achievement was being a loving Mom & Granny to her children, grandchildren & great grandchildren.
Survivors include:
Daughters:  Becky and husband Glenn Rountree, McLeansboro, IL; Vicki Harrelson  and husband Joel,  Carmi, IL
Son:   Jim Webb  and  wife Paula,   Elizabethtown, IL
Grandchildren: Leslie Danage (husband Trae); Lynn Braden ( husband Curt); Wade Maulding (wife Jennifer); Olivia Trout (husband David); Skylar Harrelson; Alex Webb ( wife Jenny); Jacob Webb; Ashley Allen Siedler and husband Nathan
Great Grandchildren: Hunter and Chloe Braden, Hayden and Lane Maulding, Britton, Kahlel and Amira  Danage, Dawson and Emiline Trout and Jack Brown;  Adlee Siedler
Beloved Dog:   K.C.
Brothers:   Jim Gholson and wife Pat,  Carmi, IL;  Jerry Gholson and wife Kay, Evansville, IN
Sister:        Elizabeth Neal,  Marion, IL
Several Nieces and Nephews                 
Preceded in Death by: Parents;  Brothers, John, Joe, Charles, Dick Gholson; Sisters, Sylvia Drosdahl and Elsie Auxier.
MEMORIALS TO:  Hamilton County Senior Citizen Center and will be accepted at
Harre Funeral Home, which was in charge of arrangements.                                                                                                                     
Funeral